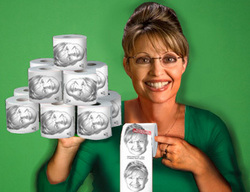 "Our award is one big splat in the face that even our quirky Alaskan pal Palin couldn't avoid."
Los Angeles, CA (PRWEB) December 31, 2009
Tiger Woods may have swung himself into the higher ranks of stupidity this year, but it was Sarah Palin who took the title dunce cap award of "Stupidest Celebrity of 2009", according to a poll conducted by Stupid.com.
The survey, which polled more than 2,000 visitors to the site, asked which celebrity's behavior was the "stupidest" of the year.
It was a landslide victory for former vice-presidential candidate Palin, earning 48% of the votes, followed by Woods with a worthy showing at 20%.
Rapper Kanye West, who famously stole the microphone from country singer Taylor Swift at the 2009 MTV VMA awards, ranked third with 10%, while reality star and father of eight Jon Gosselin closed with a close fourth at 7%.
"Sure, Palin may have dodged that tomato tosser at her book signing at the Mall Of America," said Justin Scott, web content director for Stupid.com, "But our award is one big splat in the face that even our quirky Alaskan pal Palin couldn't avoid."
Rounding out the poll, tied for second to last, was often outspoken pop star Miley Cyrus at 4%, former Miss California and Larry King interview "favorite" Carrie Prejean at 4%, "Balloon Boy" Falcon Heene at 4%, and conservative commentator Glenn Beck at 4%. R&B singer Chris Brown, infamous for his skuffle with pop singer Rihanna, ranked last in the survey.
Since 1996, Stupid.com has been a top online retailer for geeky gadgets, stupid gifts, and clever novelties, with nearly 2 million unique visitors annually, and over 2,000 gifts and products.
Ranging from political gags like Sarah Palin Toilet Paper, to novelty gifts like Tiger Woods Jackass Golf Club Covers, Stupid.com is home to 'The Stupidest Gifts on Planet Earth'.
For more gag gift awards, and funny novelty gifts, visit Stupid.com. For more information, pictures, and other press inquires, please email webmaster(at)stupid(dot)com, or call 323-878-1270.
###