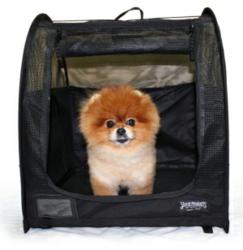 I find the quality of the bag to be excellent and the company's customer service to be outstanding.
(PRWEB) January 12, 2013
Sturdi Products Pet Carriers, as featured in Jezebel Magazine, Cat Fancy Magazine, and Pet Product News International, gives dog owners the chance to win a Sturdi Products pet carrier with Sweepstakes Ninja. Sturdi Products specializes in pop- up shelters and products for travelling pets and their owners. Sweepstakes Ninja gives consumers a chance to win sturdi products by clicking to enter to win here.
Sturdi Products was founded on the principle of decreasing the stress of both pets and people by designing better products for use when traveling with pets. These unique, durable pet carriers are perfect for owners who travel frequently, as they adapt to fit under most airline seats. Pets are more comfortable and experience less stress when they have a space of their own. With this convenient pet carrier, your best friend can accompany you on all of your travels.
Sweepstakes Ninja gives people the chance to learn about unique companies such as Sturdi Products, while at the same time giving them the chance to win great prizes. People may enter the sweepstakes through the sweepstakes draws (http://www.sweepstakesninja.com/sweepstakesdraw/draw/sturdi-products-dog-carrier-car-go-shelter). They are daily entry draws, that not only give people chances at winning amazing prizes, but also introduces unique companies to them. Through the sweepstakes draws, contestants have a chance of winning a travelling pet carrier from Sturdi Products.
The sweepstakes may be entered through the Sweepstakes Ninja website. To increase their chances of winning, entrants may share sweepstakes links with friends, family, and through social media. This is a win-win situation for both Sturdi Products Pet Carriers and the entrant. Entrants increase their chances of winning award winning products, and more people learn their line of travelling pet shelters.
About SweepstakesNinja.com
SweepstakesNinja.com designs fun and interactive sweepstakes. The company matches consumers with companies, in a fun and interactive manner. Entrants have the chance of winning amazing prizes, and have fun participating in the sweepstakes. Companies benefit from exposure to their brands, word of mouth advertising, customer loyalty, and long term increases in profit. For more details, visit http://www.sweepstakesninja.com/.