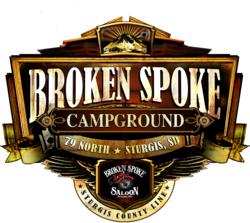 Sturgis, SD (PRWEB) August 02, 2012
The Broken Spoke Campground at Sturgis will entertain like none other during the Sturgis Motorcycle Rally 2012 from July 30 – Aug. 12. Night Ranger (Aug. 5), Uncle Kracker (Aug. 6), Kentucky HeadHunters (Aug. 7) and Joe Nichols (Aug. 8) are set to headline the 2012 rally at the Broken Spoke Campground for the biggest party at Sturgis.
Other acts include former NFL star Kyle Turley, Truth & Salvage Co., Jasmine Cain, The Farrell Webber Band, Joe Santana, The Broad Band, plus bands playing tribute to Led Zeppelin, The Eagles and many more!
General admission tickets Sunday – Wednesday nights are just $10 for non-campers and FREE for registered campers! Want to get up close to the bands? Join the VIP party! VIP tickets get you within the first 10 rows, access to the private VIP bar and are just $20 for non-campers and $15 for registered campers each night. While supplies last, Kentucky HeadHunters VIP tickets are only $15 for non-campers and $10 for registered campers. VIP tickets are on sale now for a limited time only and can be purchased at brokenspoke.com.
The Broken Spoke Campground on 79 North also brings you the World's Largest Biker Pool with hot tubs, tiki bar, live music from Lucas Hoge and unforgettable contests hosted by Laura Lynn.
About Night Ranger: With the core trio of Blades, guitarist Brad Gillis and drummer/vocalist Kelly Keagy, Night Ranger is responsible for some of the 80's biggest hits. From the epic power ballad "Sister Christian" to the guitar-driven radio juggernaut "(You Can Still) Rock in America" Night Ranger is a rare band whose signature sound is as distinctive as their blue collar, every-man image.
About Uncle Kracker: Uncle Kracker was born in Mississippi, thrived in Michigan, has played with Elvis' backing band, is no stranger to shame, a friend to Kenny, Uncle to the Kid and is playing at the Broken Spoke Campground in Sturgis this August! "Follow Me" to lifelong memories and "Smile."
About Kentucky HeadHunters: Join us at the Broken Spoke Saloon for "Just Another Night" with southern rock's legendary Kentucky HeadHunters as they play ramshackle rock for toe tapping and keg tapping. Twelve albums into their career, the HeadHunters clearly know what their audience wants.
About Joe Nichols: Joe Nichols' secret has been to make a deep emotional connection with his fans; "I want to make sure the best stuff, the best moments I have, people are able to hear," says Nichols. It's All Good's, Nichols' sixth studio album's first single, "Take It Off" marks his fifteenth chart hit, joining "Tequila Makes Her Clothes Fall Off," "Gimmie That Girl" and "Size Matters."
For more information, please visit: http://www.brokenspoke.com
###
About the Broken Spoke Campground 2012:
The Broken Spoke Campground 2012 offers 14 days of camping during the Sturgis rally on 600 beautiful acres including use of the world's biggest biker pool (100' x 50'), four hot tubs, eight different bars (including poolside tiki bars), clean bathrooms, hot private showers and the 30,000 sq. foot ride-thru biker bar. The Broken Spoke Campground has your entertainment covered. Admission into the campground gets you into all concerts free including Uncle Kracker, Night Ranger, Joe Nichols, Kentucky HeadHunters. The Broken Spoke campground also brings you the Vietnam Veterans Wall opening and closing ceremonies, the American Motor Drome Wall of Death motorcycle thrill show, the Squid Wheelies motorcycle stunt show, the Miss Broken Spoke Saloon contest and the Chop-in Block Bike builders ride, pool parties and ride-in bike show. An all-you-can-eat Bloody Mary Biker Buffet Breakfast is available daily for only $9.95, plus, a roving party bus, a mobile zip-line, helicopter rides, FREE downtown shuttle, biker games and contents and so much more!
Broken Spoke Campground 2012 Media Contact:
Andy Wilson | Bohlsen Group
awilson(at)bohlsengroup(dot)com
Ph: (317) 602-7137