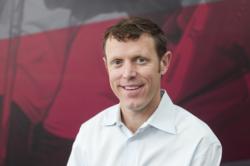 I believe Jason and the rest of the executive team are laying an exceptionally strong foundation for the future success of the company and the sport.
Baltimore, MD (PRWEB) February 27, 2013
Baltimore-based STX, a global sporting goods leader, today named Jason Goger as President and promoted Jim Benton and Chris Morea to other key positions.
Goger, who joined STX in 2005, previously held the positions of Men's Product Manager and General Manager. During his tenure, STX has been number one in the market for men's and women's lacrosse equipment. As President of STX, he will help shape the strategic direction of the company in addition to overseeing daily operations.
Prior to joining STX, Goger worked at Black and Decker, Inc. in product management and at 180s, LLC as the General Manager of GORGONZ Performance Work Gear. Goger received his BA from Duke University and was the 1995 Duke Lacrosse Defenseman of the Year. He earned an M.B.A. from the University of Maryland and was awarded a Lamone Entrepreneurial Scholarship for the program.
"As General Manager, Jason has implemented game-changing processes," said Richard B.C.Tucker, Jr., Chief Executive Officer. "He has been the driving force behind STX's ability to grow the largest share of the U.S. lacrosse equipment market. More importantly, he has built an extraordinary team that continues to stay on the cutting edge in this highly competitive industry. I believe Jason and the rest of the executive team are laying an exceptionally strong foundation for the future success of the company and the sport."
Due to STX's continued growth, other promotions in key positions were announced as well. Jim Benton, former Director of Business Development, was promoted to Director of Product Management. Previously, Benton served as Director of Marketing at STX, and held a Senior Product Manager position at Stanley Black & Decker. As Director of Product Management, Benton will be tasked with refining the product management processes and, more importantly, fueling the company's innovation efforts.
"Jim brings a broad base of experience to this position," said Goger. "In his prior role, Jim successfully demonstrated his ability to create and implement well-organized, thoughtful strategies while operating in an entrepreneurial business environment. Our success is built on a history of industry-changing innovations; in that context, Jim will be tasked with pushing STX products to a new level."
Additionally, Chris Morea, former Men's Lacrosse Product Manager, has been promoted to Senior Product Manager and Men's Lacrosse Business Leader. In his new function, Morea will be creating the strategic vision for the Men's Lacrosse product portfolio and driving the daily, tactical plan. With the announcement of Morea's new role Goger added, "This promotion illustrates Chris' continued success within the organization. His leadership, tenacity, and unwavering desire to make great products continue to serve us well."
STX is currently hiring for nine new positions ranging from brand manager to product developer. Interested candidates should visit STX's career web page to find out more about the job openings.
About STX:
STX is a global sporting goods leader in the sports of lacrosse, field hockey and golf. With its 1970 introduction of the first synthetic lacrosse head, STX ushered in the "modern era" of what is now the fastest growing team sport. Based in Baltimore, the home of lacrosse, STX has been universally recognized for innovation in product design and development. STX continues to strive for new performance standards in sporting goods equipment at the highest levels of competition. For more information, visit http://www.stx.com.
###