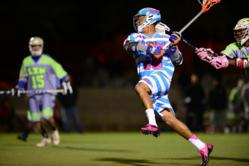 (PRWEB) November 19, 2012
Team STX takes a 3-2 series lead after a record-breaking 16-10 comeback win at the LXM ATS game in Phoenix, AZ.
In the first half, Team STX was down 9-1 but gained momentum after STX Attackman Max Ritz scored a goal in the second quarter sparking a 3-goal run before Team Sole scored again. STX Attackman Xander Ritz dished out an assist behind the net to Erik Krum, faking out Team Sole and scoring another goal for Team STX. STX Midfielder Maxx Davis closed out the goals for STX in the first half, leaving Team Sole ahead 10-5 at halftime.
At the start of the third quarter, Xander Ritz scored three goals in under just 5 minutes, kicking off an 11-goal run by Team STX. Down by two goals, lacrosse icon Kyle Harrison avoided a triple team, providing an assist to Max Ritz who ripped the ball through the net. Kyle Harrison tied the game 10-10 ripping the zip tie off of the net with his top corner runner at 3:02 in the third quarter. The first STX game lead came with 0:49 seconds left in the third quarter off of a man up goal by Attackman Eric Krum. Team Sole was shut out in the third quarter, giving Team STX a one-point lead heading into the fourth quarter.
Team STX took over the game in the fourth quarter putting up big numbers and continuing to shut out Team Sole. STX's goaltender and former Naval Academy three-time All-America selection, Matt Russell, made an unbelievable save early in the fourth quarter getting in front of a quick stick shot from Team Sole. From there it was all STX with another goal from Kyle Harrison and two goals from rookie sensation Sam Bradman. Matt Russell shut out Team Sole in the second half along with great dominating faceoff play and team defense.
Xander Ritz was the leading scorer for Team STX with 4 goals and 3 assists. To watch STX's huge comeback win on The Lacrosse Network, click here.
For information or for tickets to the event Saturday, December 1st in Las Vegas, NV, visit http://www.lxmpro.com.
About STX:
STX is a global leader in sporting goods hard-goods, including the sports of lacrosse, field hockey and golf. Since its 1970 introduction of the first synthetic lacrosse stick ushered in the "modern era" of lacrosse, STX has been universally recognized for its technological innovations in product design and development. STX continues to strive for new standards in competition-level sporting goods equipment. For more information, visit http://www.stx.com.
About LXM Pro Tour:
Founded in 2009, the LXM Tour captures the unique cultural and lifestyle components of lacrosse through live events featuring forty of the sports' most elite athletes competing head to head in a full length professional game. Additional interactive elements including clinics, exhibitions, and autographs sessions help make LXM the ultimate lacrosse experience. For more information on LXM PRO please visit http://www.lxmpro.com.
###