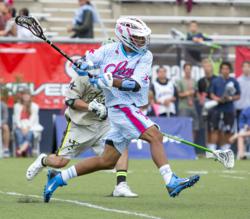 Baltimore, MD (PRWEB) June 11, 2013
Taking to the field competitively for the first time since earning MVP honors for Team USA at the Champions Challenge in January, Sam Bradman showed that his play bears no signs of slowing down. The former Salisbury University standout registered five goals on Saturday to lead Team STX to victory in the 2013 LXM Pro Tour season opener against Maverik United by a score of 14-13, in Costa Mesa, CA.
Bradman's play up-field was matched by former Naval Academy goaltender Matt Russell in the backfield. Russell managed to stave off an offensive barrage from Maverik United, registering an astounding 17 saves in the effort. The Madison, CT native also transitioned the ball effectively throughout the afternoon with several long outlet passes, giving Team STX ample opportunity to maintain a lead through the final three quarters of the game.
The contest marked the first in over a dozen that will be played across the country in 2013, pitting rival manufacturers against each other for the first time. Team STX recently added college superstars Tim Desko (Syracuse) and Peter Baum (Colgate) to its lineup and both players delivered in their professional debuts, scoring two and one goals respectively.
Last year's season ended in January with STX taking the series advantage in a win against what was then Team Solé. Over the course of the off-season, several changes were made to the tour including the signing of several high-profile players on both squads, and the addition of equipment manufacturer Maverik as sponsor of Team STX's opposing squad. The highly anticipated results were on display Saturday and did not disappoint.
The teams will meet for the second time in just two weeks, on June 21, at the Del Mar Polo Grounds in Del Mar, CA. For information, a calendar of events or to buy tickets for upcoming games, visit http://adrln.com/lxm/.
About STX:
STX is a global leader in sporting goods hard-goods, including the sports of lacrosse, field hockey and golf. Since its 1970 introduction of the first synthetic lacrosse stick ushered in the "modern era" of lacrosse, STX has been universally recognized for its technological innovations in product design and development. STX continues to strive for new standards in competition-level sporting goods equipment. For more information, visit http://www.stx.com.
About LXM Pro Tour:
LXM Pro Tour is the pinnacle of the Adrenaline Movement. With roots in lacrosse, Adrenaline is one of the most unique companies in all of sports due to its multi-faceted and truly authentic nature. Adrenaline fosters the lacrosse lifestyle through cutting edge apparel, charity Awareness initiatives, LXM PRO professional tour, training programs, recruiting events, Starz Clubs, tournaments, camps and leagues. For more information on Adrenaline, visit http://www.adrln.com.