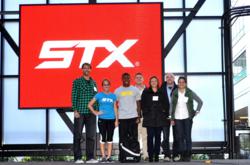 Baltimore, MD (PRWEB) December 03, 2012
Baltimore-based STX, LLC, a global sporting goods leader, announced today the winners of the STXtreme Internship Contest, a search for an undergraduate intern to work with the Marketing Department at STX.
Chris Allen, a freshman marketing major from Morgan State, was the overall winner of the competition. Kristin Henry, a junior Business Communication major from Stevenson University was runner-up for the STXtreme competition and also won an internship with STX for the upcoming spring semester.
To apply, students had to submit a blog post or 1-minute video explaining why they wanted to work at STX and why they would be a best fit for the brand. STX received over 25 entries from students representing Towson University, Loyola University, Stevenson University, Morgan State University, University of Maryland College Park, Goucher College and even as far as Purdue University. To watch Chris Allen and Kristin Henry's video applications click on the links above.
The top five finalists competed in the STXtreme Intern Showdown on November 2-5. During the showdown, finalists competed in a social media scavenger hunt around Baltimore where they had to complete tasks such as finding the Johns Hopkins Lacrosse sweater from 1915 and tweeting a picture of it. The finalists got creative with the pictures and tweets, showing off their lacrosse skills and getting celebrities such as Duff Goldman to retweet them. Judges ranked the top finalists for their resumes, application videos, social media scavenger hunt, interview answers and the sports challenge. Watch exciting highlights from the scavenger hunt and showdown on STX's YouTube channel and view pictures from the competition here.
The STXtreme Internship is focused on real sports marketing experience and exposure. Allen and Henry will participate in projects such as photo shoots, sales meetings and college game days as a part of their internship.
About STX:
STX is a global sporting goods leader in the sports of lacrosse, field hockey and golf. With its 1970 introduction of the first synthetic lacrosse head, STX ushered in the "modern era" of what is now the fastest growing team sport. Based in Baltimore, the home of lacrosse, STX has been universally recognized for innovation in product design and development. STX continues to strive for new performance standards in sporting goods equipment at the highest levels of competition. For more information, visit http://www.stx.com.
###