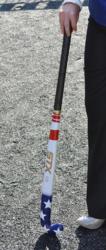 It also speaks to the work being done by our new partner, USA Field Hockey, to capture the U.S.'s first medal in field hockey at the Olympics this summer. Together we are driving field hockey to new competitive levels in the U.S
Baltimore, MD (PRWEB) July 23, 2012
Baltimore based STX, LLC, a global sporting goods leader, announced today a one-year partnership with USA Field Hockey.
STX is the most widely distributed field hockey brand in the U.S. and is strengthening its commitment to the sport by signing American field hockey icon Carrie Lingo, a member of the 2008 USA Olympic Team, and by partnering with USA Field Hockey for the Play It Forward program. STX will also provide USA Field Hockey with equipment and funding as a part of the partnership.
"We are delighted to begin a partnership with STX, a U.S. brand that continues to expand its commitment to field hockey, and will play a key role with us as we continue to grow our sport," said Steve Locke, Executive Director, USA Field Hockey.
The Play It Forward Program is a joint initiative between STX and USA Field Hockey to encourage youth participation in the sport. The program will feature U.S. Olympic Field Hockey players, at public field hockey clinics in Baltimore, Md. and Chula Vista, Calif.
Lingo joins STX as a product and brand advisor for field hockey, bringing elite player insight into the sport. Lingo will also be featured in the new 'We Will Rise' marketing campaign for STX.
"This is a wonderful opportunity to stay connected with the field hockey community and ensure that up and coming players have the best equipment possible to reach their full potential on the field," said Lingo. "STX is making field hockey a priority and it will no doubt grow the sport in the U.S."
"We Will Rise speaks to STX's commitment to elevating our dedication to the category and to reaching for an even higher performing product despite being number one in the marketplace," said Ed Saunders, Director of Marketing for STX, of the company's increased initiatives towards field hockey. "It also speaks to the work being done by our new partner, USA Field Hockey, to capture the U.S.'s first medal in field hockey at the Olympics this summer. Together we are driving field hockey to new competitive levels in the U.S."
Lingo and STX will promote a USA Field Hockey stick giveaway leading up to this year's summer Olympics. The grand prize for the giveaway will be a day with Lingo to play field hockey.
The giveaway began June 7th and will run through July 27th when the Olympics begin. There will be one winner each day for a USA Field Hockey limited edition stick. Some of the sticks will be signed by Team USA players or by Carrie Lingo and will be announced the day of. Each entry for the stick giveaway will automatically sign you up for the grand prize. To learn more about the giveaway and to sign up, visit http://www.stxfieldhockey.com/carrielingo.cfm
About STX:
STX is a global leader in sporting goods hard-goods, including the sports of lacrosse, field hockey and golf. Since its 1970 introduction of the first synthetic lacrosse stick ushered in the "modern era" of lacrosse, STX has been universally recognized for its technological innovations in product design and development. STX continues to strive for new standards in competition-level sporting goods equipment. For more information, visit http://www.stx.com.
###