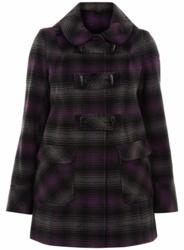 (PRWEB UK) 21 October 2012
Packed full of plus size fashion that's arrived just in time for autumn and the change in weather, Style369 has everything from jackets and plus sized dresses to trendy footwear and accessories. There's no need to compromise on style for the sake of keeping warm and dry.
Autumn Trend of Studded Clothes
As the online go-to destination for trendy plus size clothes, Style369 has lots of the pieces inspired by some of this season's top trends. Stud embellishment is a big thing on the high street right now and clothes such as the Arrow Stud Leggings, the Grey Heart Stud Bubble Top, the Studded Bodycon Dress and Lovedrobe's Stud Detail Dress in grape or black are perfect for working this look.
Footwear is another way to work the stud trend into plus size fashion. The Studded Cowboy Boots, Studded Strap Long Boots and the Leather Stud Boots are perfect for this.
Plus Sized Dresses from Sienna Couture
Plus sized dresses are in abundance a recent influx of beautiful pieces from Sienna Couture clothing really ups the website's overall glamour appeal. Most of Sienna Couture's dresses are made from chiffon and feature exquisite embellishment making them most appropriate for those special occasions and parties – perfect for this time of year and party season.
Shift and prom plus sized dresses are a popular style at the moment with many of these are great for wearing day to night which is an important consideration with all the dinners and drinks events this time of year brings.
Plus Size Jackets & Coats for Autumn
Now that autumn is truly here, jackets and coats are essential. The range of plus size jackets and coats is made up of fabulous, fashion-forward styles including quilted jackets, waxed jackets, coats with faux fur trim, duffle coats and swing coats.
The Knitted Coat is a gorgeous and versatile piece. In a winter-inspired Alpine design, it has a collar, long sleeves and a curved hem. On those in-between days, it's enough to wear over a long sleeve top and when winter really sets in, it can be worn under overcoats for an extra layer of warmth.
The faux fur trim parkas, coats and jackets have an on-trend feel. As well as being a feminine finishing touch, they provide that extra little bit of warmth. The parkas with faux fur trim have a more casual feel but something like the Black Faux Fur Trim Coat.
About Style369
All about fashion and fit, Style369 is an exciting, online-only store for style-conscious girls size 14 – 16.
The Style369 collection incorporates trend-led pieces from some of the UK's freshest plus size brands (including Lovedrobe, Not Your Daughter's and Curvy Kate) and the Evans' high fashion range, to ensure a perfect fit and high impact look.
Including everything from cut-to-flatter jersey basics to new season plus size dresses, lingerie, shoes and accessories, Style369 has every occasion covered. Detailed fit guides, a forward-thinking blog and fashion-focused editorials give Style369 even more of a distinctive edge, making it a go-to destination for the style-savvy.