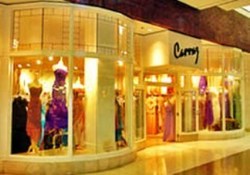 Now is really the best time to start looking for this year's prom dress, says Suzanne Aguila, founder of Carrazgowns.
Glendale, CA (PRWEB) December 4, 2008
Carrazgowns is excited to celebrate their 24th anniversary as a leading retailer of prom and special occasion dresses and is ready to embark on their 25th year of retail excellence. They plan to carry their tradition of excellence into the 2009 prom season, and are offering customers the season's best prom dresses from designer labels such as Jovani prom dresses, Sherri Hill, La Femme, Mori Lee, and the recently introduced high end line, Prom Couture.
Carrazgowns' collection of over 1,000 prom dresses and special occasion dresses a number of celebrity dresses and a host of best sellers, but the real strength of Carrazgowns is their ability to help girls find dresses that fit both body and personality. Carrazgowns offers a large selection of dresses for every body, including plus size prom dresses, dresses ranging from low end to high end designer names, and the ability to special order. Because it is such an important and detailed process, Carrazgowns encourages shoppers to start early.
"Now is really the best time to start looking for this year's prom dress, says Suzanne Aguila, founder of Carrazgowns. "By starting the search for a prom dress now, you allow plenty of time for special orders and other accommodations."
Suzanne Aguila, fashion industry veteran, founded Carrazgowns in 1984 and she knows the industry well. She opened a small boutique in Beverly Hills offering lines from Italy and France. The special occasion dress for girls and women offered today still exhibits a European flair reminiscent of the first collections offered by Suzanne and Carrazgowns, and the prom and special occasion dresses she has chosen over the years have brought her great success.
Carrazgowns has grown to become a fashion superstore with two locations, one in the Glendale Galleria and the other in the Del Amo Fashion Center. It is the perfect destination for prom dress shoppers, but those that would rather shop at home can purchase prom dresses online through their website, Carrazgowns.com.
"Whether you shop online or in one of our stores, we take pride in our personalized customer service," says Suzanne, "Our customers come back and keep coming back because we have the best customer service, and that translates into important benefits for them."
In addition to offering prom dresses and other special occasion dresses, Carrazgowns has become a community leader. They have sponsored the City of Glendale in the Rose Bowl Parade and have sponsored the Ms. Asia America Pageant, providing gowns to contestants for the eveningwear portion of the competition. During this time, Carrazgowns has been able to showcase their collection of special occasion dresses, as well as their commitment to the community. For Carrazgowns, the next 24 years is sure to bring more of the same.
To purchase a prom dress online or explore the Carrazgowns collection, please visit Carrazgowns.com.
About Carrazgowns:
In 1984, Suzanne Aguila founded Carrazgowns. Starting from a small location on Bedford Drive in Beverly Hills , Carrazgowns brought French and Italian fashions to the West Coast. Since then the company has become a favorite source for special occasion dresses and has expanded to two brick and mortar shops as well as becoming an online retailer.
###