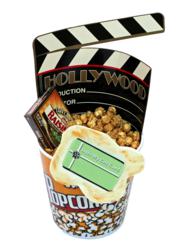 "StyleMyGiftCard.com will do for gift cards and Groupons what Edible Arrangements did for the gift basket industry."
Los Angeles, CA (PRWEB) July 25, 2012
Every gift should feel like a gift, says StyleMyGiftCard.com founder Tyler Langdon.
StyleMyGiftCard.com officially launches today with an eye to improve the gift-giving (and receiving) experience when it comes to gift cards, certificates, and perhaps the most intangible of redeemable gifts: Groupon deals.
With a reputation of being thoughtless and last-minute, redeemable presents like gift cards are available at almost every gas station and grocery store checkout aisle. Groupon deals, which have no physical component other than a coupon code that can be printed out from a URL, are not yet deemed socially acceptable as "thoughtful" gifts.
Putting the "gift" back into gift cards—and even sprucing up Groupon deals—is the brainchild of Tyler Langdon, a University of Notre Dame graduate and entrepreneur. "Our company turns lame plastic cards or paper printouts into usable, unique, and creative arrangements," Langdon said. "StyleMyGiftCard.com will do for gift cards and Groupons what Edible Arrangements did for the gift basket industry."
Here's how it works: On the StyleMyGiftCard.com website, a gift-buyer first chooses from one of dozens of arrangements. For a movie-buff friend, for example, a gift-buyer might select StyleMyGiftCard.com's old-fashioned movie theater popcorn tub stocked with caramel corn, candy, and a classic Hollywood backdrop (see picture above). At no extra charge, the arrangement is then paired with a gift card to a movie theater such as AMC or a movie rental service such as Netflix or Blockbuster. The gift card is featured on a placard that looks like a piece of popped popcorn exploding from the tub. Finally, the arrangement is wrapped in clear cellophane and tied at the top with a ribbon before being shipped.
StyleMyGiftCard.com's arrangements range from $6.99 to $49.99 for a variety of themes, such as movies, music, restaurants, coffee shops, bookstores, retail stores, and brand-specific stores, packages and events.
Langdon says the idea behind StyleMyGiftCard.com is that giving a gift card or Groupon doesn't need to be a seemingly cold, thoughtless transaction. Instead, the gift card or Groupon becomes a part of a usable arrangement that the recipient can enjoy long after the gift card has been used.
"StyleMyGiftCard's one-stop shopping makes giving a gift card or Groupon just as easy as it's always been," Langdon said. "But the gift, which has the flair of homemade creativity, now seems thoughtful and planned out, which makes that special someone in anyone's life feel, well, special."