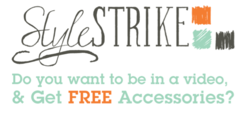 "If you don't like it- STRIKE IT,"- host Samuel Schimek for Style Strike at Denver Pavilions.
Denver, CO (PRWEB) July 02, 2012
Join Denver Pavilions for the filming of a new summer reality series called "Style Strike." Filming takes place every Weds. from July 11-Aug 15 from noon to 1pm in the plaza.
Audience members are asked to bring an outdated accessory or two on the specific show date as listed below. Style host Samuel Schimek will select two audience members per show date to receive a brand new, on trend accessory from Denver Pavilions valued up to $200. It's free to participate for those 18 and older. Anyone under 18 must have their parents sign their participation form.
Registration begins at 11:30am the day of filming. Denver Pavilions' gift cards in undisclosed amounts up to $25 will be given to first 10 participants who sign up for filming with an accessory they wish to strike. Additional gift cards and prizes will be given out randomly to the crowd during the taping.
To register participants will be asked to fill out a short form onsite requesting their consent to be filmed, contact information and explanation about the accessory they would like to strike. Select audience members will be given an opportunity to do an on camera interview about why they aren't fond of the accessory they brought.
In addition the audience will be asked to recite the show's tag line, "If you don't like it — STRIKE IT!" for the film crew.
Denver Pavilions' will not retain the accessories that were selected to be striked for the show. All items will be returned to their owners. For additional details visit http://www.DenverPavilions.com.
Here's a list of accessories to bring & when:
July 11-
purse and/or briefcase
July 18-
belt and/or scarf
July 25-
necklace and/or neck tie
Aug 1-
hat and/or headband
Aug 8-
cologne and/or perfume
Aug 15-
clutch and/or messenger bag
About Denver Pavilions
Denver Pavilions is a one-of-a-kind retail/entertainment center in the heart of downtown Denver on the 16th Street Mall, providing a "critical mass" of 40 retail tenants, restaurants and entertainment venues. The open-air Denver Pavilions features three-story buildings on a two-block development that is linked by "The Great Wall," an interior structure featuring the word, "DENVER," which has become the world wide symbol of downtown Denver. With such "marquee" tenants as Colorado's first H&M, Hard Rock Cafe, Maggiano's, 15-screen United Artist Theatre, Barnes & Noble, Lucky Strike Lanes and Forever 21, Denver Pavilions has become a magnet for the metropolitan region. Denver Pavilions is conveniently located for the downtown area's 110,000 office workers and growing residential base and is close to the 16th Street Mall, theaters, restaurants, events, cultural and athletic facilities.