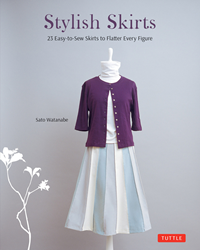 North Clarendon, VT (PRWEB) May 14, 2014
Based on Sato Watanabe's extremely popular sew-it-yourself Japanese fashion book Chokusen nui nanoni kireina shiruetto no suka-to, Tuttle Publishing has announced the publication of their new English edition under the title: Stylish Skirts. With this book, the avid DIY Japanese sewing enthusiast can sew skirts to match every possible body shape, taste in fabrics, texture and color to mix with their favorite tops, shoes and accessories. The Japanese DIY sewing movement is now sweeping the world and Sato Watanabe is a leading exponent of this new fashion trend.
Stylish Skirts includes 23 designs that will look great in different fabrics, colors, prints and textures—so the options are truly endless. The instructions and diagrams are a snap to follow and the enclosed instructions make cutting and sewing these skirts relatively simple. The book releases on June 3rd and can be purchase in bookstores or online.
Designer Sato Watanabe studied clothing and accessory design at the Bunka Fashion College before beginning a career as a magazine editor, eventually turning her writing skills to cooking and sewing books. She specializes in simple, elegant homemade couture with room for a touch of individuality.
About Tuttle Publishing
Established in 1948 by Charles Egbert Tuttle Jr. in Rutland, Vermont and Tokyo, Japan, Tuttle Publishing is the premier publisher of English language books on Asian culture. Today, Tuttle maintains an active offering of books on a wide range of topics, including Asian culture, Asian literature, Asian architecture, Eastern spirituality, gardening, cooking, martial arts, crafts, travel, health and wellness, and fine art for a worldwide audience. For more information, visit http://tuttlepublishing.com.