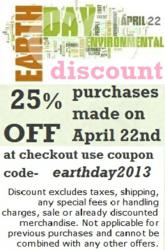 Green practices should become part of an everyday lifestyle and not just considered on one day out of an entire year.
Stanton, New Jersey (PRWEB) April 18, 2013
Monday, April 22, 2013 will be the 43rd anniversary of Earth Day and those consumers concerned with the negative environmental impact of manufactured items are especially searching out green products. Gearing up for Spring and the Earth Day celebrations, Stylish Organics is offering a new line-up of products including responsible fashions for kids, women, and men; organic skin care and cosmetics; sustainable furniture and home décor; and natural pet products.
Earth Day began in 1970 as an effort to gather national support and awareness for saving the environment. Earth Day celebrations give consideration to employing practices not damaging to, or that replenish our natural resources. Marked by the common practice of planting new trees to celebrate, all people are encouraged to enjoy the fresh air, take a walk through the woods or fields in search of budding spring, plant a garden, or in some way enjoy nature.
Although the publicized day spurs people to do acts of good for our environment, the owner of Stylish Organics feels green lifestyle choices should be made every day throughout the year. "Green practices should become part of an everyday lifestyle and not just considered on one day out of an entire year," commented Lynn Lavanga. "There are plenty of steps we can all take to make our lifestyle greener, reducing the negative impact on our environment. The increased availability of organic and sustainable products ranging anywhere from clothing or personal care items to furniture, makes it easier for consumers to make a greener choice. Products certified as organic use no chemicals, synthetic fertilizers or dyes in their production. Manufacturers producing organic products adhere to green practices - eliminating toxins from being introduced into the environment - improving air quality and eliminating contamination of soil or ground waters with post production runoff. Sustainable resources from managed crops easily replenish with no negative impact on the environment. Because of the additional considerations to protect our environment, organic and eco-friendly products may cost a few pennies more - but it is well worth it."
With a goal of encouraging greener consumer choices, http://www.stylishorganics.com offers a large selection of upscale products, fashionable and unique in their own right, with the added benefit of being environmentally friendly. A fresh Spring collection of clothing for men, women, and children are the latest haute couture fashion and artist inspired designs. Sophisticated furnishings and décor, luscious skin and personal care products, plant-able stationery, and green gifts, are available in the latest styles. Take advantage of their Earth Day only special discount. Shop on April 22nd and get 25% off your purchase. At checkout use coupon code- earthday2013.
About Stylish Organics
Stylish Organics is an e-commerce boutique offering a collection of products selected for earth friendly properties from environmentally responsible manufacturers. The company's easy to shop, one-stop-shopping, venue enables those committed to green living to combine savvy styling with earth friendly thinking. Many of their products are made in the USA or are ethically sourced from organizations that globally support women. The boutique is based in Stanton, New Jersey and is available to consumers on-line with shipping provided to locations in the United States and Canada. They can be reached via their website, email - contactus(at)stylishorganics(dot)com or by calling 800.581.6417.