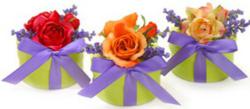 Mother's Day is the time to pay them tribute in thanks for their efforts and love.
Stanton, New Jersey (PRWEB) May 03, 2013
Taken for granted 364 days of the year, May 12th will find millions of people throughout the world honoring their Mother. "The foundation of most families, Moms have given life, taught right from wrong, and provided constant support," commented Lynn Lavanga owner of Stylish Organics. "Mother's Day is the time to pay them tribute in thanks for their efforts and love."
Knowing the importance of making Mom feel special, while honoring Mother Earth, http://www.stylishorganics.com has compiled a list of green gifts to make it easy for consumers looking for a unique organic or eco-friendly gift for Mom.
Following are a few green Mother's Day gift ideas to indulge Mom while protecting Mother Earth;
1. Luxurious Organic Beauty and Bath products including skin creams, body lotions, hand and feet moisturizers, bubble bath, and cosmetics made from certified organic or all natural ingredients are free of chemicals and preservatives. Pampers Mom and is good for Mother Earth.
2. Eco Friendly Jewelry – come on, what Mom doesn't like a little bling! Earrings, Necklaces, and Bracelets made from recycled materials including recycled glass bottles, re-used sterling silver or leather, natural sea pearls, or parchment from organically grown fruits and vegetables.
3. Maintain an earth friendly eye with conscious fashion items that will have Mom feeling like a beauty queen. Shirts, blouses, dresses, skirts, and pants in the latest styles from organic cotton, bamboo, hemp, or modal will have her feeling oh so chic. Don't forget the fashion accessories from sustainable fibers!
4. Feed Mom's fashion sense with a handbag, makeup case, pouch, or tote made from organic cotton, bamboo, hemp, or recycled materials. Smart looking and environmentally friendly!
5. Flowers, the eco-friendly kind that are a gift to Mom and to Mother Earth. Plant-able tissue paper ribbon that contains perennial seeds that will blossom year after year. Easy to plant and comes in a reusable round box with a single, brilliant silk flower crowning the top.
6. Transform her space into a personal retreat filled with natural fragrance from a hand-crafted soy and vegetable blend wax candle. Loving says Mom, take some time to relax your mind and recharge your spirit.
7. Further enhance her space with an artistic vegetable parchment bowl that can be beautifully illuminated with a votive candle, hold potpourri, or keep her small lightweight treasures safe. More simply, the bowl can convey a quiet invitation to slow down, look closely, and rediscover the complex beauty of the natural wonders so often taken for granted.
8. For the more unusual, search out an eco-friendly piece of art. One-of-a-kind gems made with recycled papers, eco- friendly dyes & paints, finished with recycled vintage frames, salvages items otherwise headed for landfills. Tells Mom you think she is unique while protecting Mother Earth.
9. If Mom is a yoga enthusiast, carry through on Yoga's philosophy of respect for all life on the planet, and give a gift of environmentally friendly Yoga equipment! Yoga equipment made from recycled and eco-friendly materials shows Mom you too are one with the Earth.
10. Celebrate the art of personal correspondence with Mom while being kind to Mother Earth with notepaper, notecards, or journals made from sustainable fibers such as hemp, or recycled materials such as paper, blue jeans, and yes even coffee grinds!
11. If your's is a working Mom, a beautiful hand-dyed design reusable lunch sack kit lets her carry her lunch in style while touting 'go green'!
12. Moms love fresh smelling clothing drawers and closets. She'll love a sheer organza pouch filled with organic florets that present a natural fragrance at the same time acting as a moth repellent. Contained in a re-usable gift box for her tiny treasures.
With so many great organic or eco-friendly gift options available it will be easy to find the perfect gift to honor your Mom and Mother Earth.
About Stylish Organics
Stylish Organics is an e-commerce boutique offering a collection of products selected for earth friendly properties from environmentally responsible manufacturers. The company's easy to shop, one-stop-shopping, venue enables those committed to green living to combine savvy styling with earth friendly thinking. Many of their products are made in the USA or are ethically sourced from organizations that globally support women. The boutique is based in Stanton, New Jersey and is available to consumers on-line with shipping provided to locations in the United States and Canada. They can be reached via their website, email - contactus@stylishorganics.com or by calling 800.581.6417.