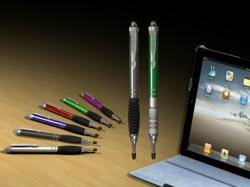 "Aircraft grade aluminum, precision machined"
Los Angeles, CA (PRWEB) October 31, 2012
Tech guys everywhere know that it is difficult to find a good tablet/touch screen stylus these days! That is the reason why Frank Noriega developed the Serene Stylus. Introducing the all-new Serene Stylus, it is a super comfortable and ergonomic stylus that is designed universal for all conductive touch screen tablets. The Serene stylus pen can be used for surfing the web on tablet touch screen devises such as Ipad. It is great for writing notes, creating detailed sketches, complex engineering schematics using the small 4mm silicone nib! The new stylus has been launched via the Kickstarter website in order to raise funding for development and manufacturing and will run until December 3rd, 2012
The Serene Stylus was created for professionals that need a quality reliable device that can be used for long periods of time without finger and hand fatigue. That it is why the Serene Stylus has a deep knobby tread design for therapeutic massage to the finger tips and hands for hours of stress-free use. Perfect for engineers, artists, architects. It's light weight and well balanced.
Comfort
Conductive ergonomic soft silicone grip, the small diameter is very comfortable to hold for long periods of time and has a very non bulky feel.
For more control, The Serene stylus pen offers an optional interchangeable precision aluminum knurled finish grip. The Serene Stylus also includes a removable stainless steel "magnetized" pocket clip in brushed finish, and a fine leather case.
Functional
Packed with a slim 3mm wide aero design precision aluminum tip for maximum screen visibility when doing detailed work or touching small icons on touch screen devices. The precision-machined aluminum round barrel with removable gear type aluminum end cap features detailed machined flutes on the dome. The barrel has a built it compartment for storage of three replacement nibs included with all Stylus pens.
Creative
Get colorful with high quality anodized plated finishes:
Machined finish
High polished finish
Fiery Red
Matte Black
Stellar Magenta
Cool Blue
Unique Green
To receive rewards for contributions to the Serene stylus pen campaign on Kickstarter, please click this link, Click here or go to the website at http://www.SereneStylus.com.