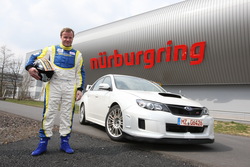 The car was controllable, with precise and faithful handling, even on tricky corners. I could easily predict the car's behaviour. This is exactly what Subaru is offering: confidence
Zaventem (PRWEB) June 9, 2010
Subaru Europe, the European subsidiary of Fuji Heavy Industries Ltd. (FHI), the manufacturer of Subaru automobiles, today uploaded footage of an hitherto secret R&D project carried out by FHI at the Nürburgring's circuit on 16th April 2010.
The project consisted of an attempt to beat the latest best lap time recorded in 2004 on the Nordschleife with a previous Impreza WRX STI test version. The vehicle used for the 2010 challenge was a test version of the new 2011MY WRX STI 4-door (sedan), the model unveiled on April 1st at New York motor show as "The Fastest WRX STI Ever". Major enhancements to the vehicle centered on improved overall dynamics - on chassis and suspension in particular (see test car specifications). Four-time World Rally Champion and long-time Subaru supporter Tommi Mäkinen was involved in the project and drove the test car. The project team triumphed as the new WRX STI test car posted a lap time of 7'55'00, an impressive 4 seconds quicker than the latest best lap time recorded in 2004, and the fastest time ever realised with a Subaru at the Nürburgring since the first WRX and WRX STI developments tests started in 1992.
Tommi Mäkinen explained: 'the car was controllable, with precise and faithful handling, even on tricky corners. I could easily predict the car's behaviour. This is exactly what Subaru is offering: confidence'.
Beyond supporting the claim that the new WRX STI is Subaru's 'Fastest WRX STI ever', the Nürburgring R&D project highlights the fact that the company is staying true to its philosophy of building drivers' cars that provide driving confidence. The R&D project team collected precious data that will be used in future WRX STI development. For their introduction in Europe - the exact timing of which remains to be confirmed- both the sedan and hatchback variants of the 'Impreza WRX STI' will have their names shortened to 'WRX STI'.
FHI's active development of environmentally conscious technologies has not been at the expense of its customers' expectations. Subaru will keep on engineering cars that provide total driving control, sheer excitement and all-round safety at any speed, in all weather and on any road conditions through the unique combination of Boxer engines and all-wheel-drive systems.
# # #