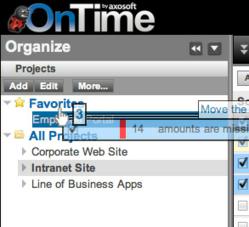 ...with OnTime 11 our aim was to create an amazing user experience with performance that was unlike anything users had experienced before.
Scottsdale, AZ (PRWEB) November 08, 2011
Axosoft, a privately held software company located in Scottsdale, Arizona, has announced the release of OnTime 11.1. This latest release of OnTime gives users the ability to add subitems, integrate with GitHub, and take advantage of new drag and drop features that dramatically improve the user experience in OnTime.
After the successful launch of OnTime 11 earlier this year, Axosoft has adopted an accelerated release cycle enabling the latest web technologies to make it into users' hands much more rapidly. This has resulted in unparalleled innovation for Axosoft's Scrum and bug tracking software offerings.
Subitems:
Users are now able to manage work items using a nested hierarchy of parent-child relationships. This powerful new feature allows larger items to more easily be broken up into smaller components while the tracking of the progress of the item can be managed at both the child and the parent levels.
GitHub Integration:
GitHub is rapidly becoming the Distributed Software Code Management (DSCM) choice for software dev teams. GitHub also offers limited, built-in work item tracking capabilities. For teams that outgrow GitHub's item tracking capabilities, OnTime now provides GitHub integration that allows users to attach change sets to items being tracked in the OnTime system. Additionally, OnTime now provides the ability to import existing GitHub work items.
Drag and Drop:
One of the biggest things users will notice with OnTime version 11.1 is the new drag and drop capabilities. Users can now utilize drag and drop to speed up several processes, including: creating subitems (dragging an item onto another item); moving to a new project (dragging an item to a project); adding to a release (dragging an item to a new release); adding to favorites (dragging a folder to the favorites area).
Hamid Shojaee, Founder and CEO of Axosoft said, "With OnTime 11 our aim was to create an amazing user experience with performance that was unlike anything users had experienced before. Having done that, OnTime 11.1 and future releases are now focused on delivering amazing new features that go above and beyond user expectations. The new subitem and drag and drop features of OnTime 11.1 do just that. Expect more to come!"
OnTime is used by more than 100,000 software developers (in ISV, consulting, IT and other organizations) throughout 55 countries. OnTime is used in organizations like Verifone, EA Sports, Disney, the United States Army, Lego, Cox and Intel. The product is offered in a hosted, cloud environment (SaaS) or can be installed.
More information about OnTime 11.1 can be found at http://www.axosoft.com/ontime/whatsnew.
About Axosoft
Axosoft, founded in 2002, is a leading provider of bug tracking and agile project management software. Its flagship product, OnTime, is widely acclaimed for its comprehensive set of features, flexibility and ease-of-use. Used by over 8,500 dev teams around the world and winner of numerous industry-recognized awards, OnTime is provided as a hosted, cloud-based application (SaaS) or as an installed application. Users access OnTime via any of the following clients: Web browser, mobile browser, a Visual Studio plug-in, or Eclipse plugin-in. OnTime is available free for 2 users at http://www.axosoft.com.
# # #