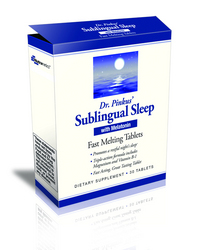 Nearly seventy million Americans have difficulty falling and staying asleep.
South Portland, ME (PRWEB) May 6, 2010
Dr. Newton's Naturals, a leading provider of high quality nutritional supplements, announces the release of Dr. Pinkus' Sublingual Sleep formula. The triple-action supplement includes melatonin, magnesium and Vitamin B-1 to relax muscles and calm nerves. Leveraging a network of blood vessels under the tongue, the formula quickly disperses nutrients directly into the body to promote restorative sleep. These fast-melting tablets also contain powerful antioxidants to help slow the aging process.
The formula's creator, Dr. Michael Pinkus, explains, "Nearly seventy million Americans have difficulty falling and staying asleep. Unfortunately, a growing number of health risks are associated with sleep deprivation. Risks include lowered immunity, depression, high blood pressure, and obesity. The bottomline is that if you sleep less than 7-8 hours each night, you are compromising your health. Our culture places a low importance on quality sleep, and it's reflected in our health."
He elaborates, "The good news is that if you reintroduce melatonin into your system, sleep issues improve dramatically. I developed Sublingual Sleep to provide my customers with the melatonin they need to achieve all five stages of sleep safely."
As one ages, the body loses its ability to produce melatonin – the hormone responsible for initiating and maintaining sleep. By age seventy, people produce a fraction of the melatonin they once did. Further complicating the sleep issue, excessive stress, prescription drugs, and alcohol all block melatonin, contributing to poor quality rest.
Chris Homer, President of Dr. Newton's Naturals, says, "In the lab, we combined the right amount of melatonin with magnesium to offer our customers an effective, non habit-forming sleep aid. Plus, it's all natural. As a result, customers can expect to receive lasting health benefits linked to restorative sleep – including enhanced immunity, cellular repair and stress reduction. This all adds up to a better quality of life for our customers. That's significant to our organization."
About Dr. Newton's Naturals
Founded in 1994, Dr. Newton's Naturals has become one of the leading multi-channel vitamin and nutritional supplement companies in the United States. Headquartered in South Portland, Maine, the company also has a distribution center in Clearwater, Florida.
About Dr. Pinkus
Dr. Michael Pinkus is a national spokesperson for alternative health care. An author and guest on over 500 radio and TV talk shows, his patients include NFL, NBA and Olympic athletes. He has dedicated over twenty-five years to researching several keys to health, and has developed some of the finest quality nutritional supplements on the market today.
To learn more about Dr. Pinkus' Sublingual Sleep formula, and the full line of Dr. Newton's Naturals products, please visit their website at http://www.drnewtons.com.
###