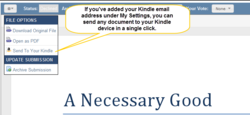 It blew our minds! - The Atlantic Monthly
NYC, New York (PRWEB) January 20, 2012
Submittable (http://www.submittable.com/), the leading revenue-generating cloud-based submission manager for magazines, journals and book publishers, announced two new features today:
1) Kindle integration that allows editors to easily read and curate digital content (manuscripts and pitches) on their Kindle, Kindle Touch, or Kindle Fire.
2) Real-time commenting within the platform for online editorial meetings
The Submittable platform, used by some of the world's leading publishers and agents, like Good Magazine, Playboy, New York University, and Columbia University, removes the mess email creates in accepting manuscripts or digital submissions. It simplifies the expensive process of sorting, tracking and archiving creative content and applications. The "Sent To My Kindle" greatly enhances the platform's capability by allowing customers to read submissions on their Kindle devices in addition to their iPads and iPhones.
Submittable's "Send To My Kindle" feature:
* Effortlessly processes payments with submissions and pitches
* Allows publishers to send files effortlessly to their Kindle
* Accepts all file types, including audio, video, and graphic files, which means businesses can accept video resumes.
* Instantly converts text submissions to PDF format so editors can read them on any computer or mobile device.
* Centralizes staff assignments and communications at every stage from receipt of the resume to hire.
* Saves trees and inbox overload
During the first two weeks, the feature has been used to send 100,000 manuscripts to editors' Kindles. Some of the feedback on the Submittable platform:
* "It blew our minds!" -- The Atlantic Online
* "Agile and easy to use." - Good Magazine
* "... makes publishing a magazine possible." - The New York Times
* "Submittable is tremendous." - McSweeney's
* "Submishmash is making this whole conversation happen so much more quickly, given we no longer have to wait for an actual manuscript to move its way around from reader to reader!" — J. Howard, University of Northern Michigan
According Ling M. a staff reader at Playboy Magazine, a premier publisher of contemporary short fiction said "I'd used the system before as a writer. It's great to see it from the editors' view."
Learn more at http://www.submittable.com
Join us on Facebook (http://www.facebook.com/submittable) and Twitter (@submittable)
The Submittable Platform product suite includes Submishmash and Resumazing (the Resume Manager). The company has offices in Missoula, Montana and New York City. Submittable is at the forefront of the changing publishing world with a growing base of over 300,000 users since launch last year. It aims to give enterprise-level software to every small business on the planet.
###