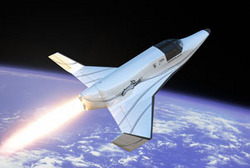 the most thrilling experience to the edge of space on this planet.
Boca Raton, FL (Vocus) July 7, 2010
Mitchell J. Schultz, managing director of Xtraordinary Adventures and one of fewer than one hundred worldwide certified Space Tourism Specialists, will help interested participants in the qualification process in preparation for their flight on LYNX. According to Mr. Schultz, "the first one hundred to fly on LYNX will be designated an OFFICIAL ROCKETEER, and will become part of space tourism history." The LYNX may become the first suborbital vehicle to regularly take space tourists on what Schultz calls "the most thrilling experience to the edge of space on this planet."
Ever since the dawn of early human space exploration in the 1960's, man has had the desire to experience the awesomeness of space, weightlessness and the feeling of power generated by rockets and G forces. The time has finally arrived with the anticipated completion of the construction of LYNX in the very near future. If you are among the first to book with Xtraordinary Adventures your place in history will be-assured.
The LYNX has been designed with four rocket engines to reach an apogee of 200,000 feet, and will take off in much the same manner as private jet aircraft. Early participants will sit in the co-pilot seat next to Rick Searfoss, former NASA Shuttle Commander who will also conduct personal briefings before each flight. Three video cameras will be recording these historical flights, and will become a memento of this extraordinary personalized-experience.
The cost of the LYNX experience is $95,000 and includes a four-day training session and a two-day briefing before the flight itself. A $20,000 deposit is required to secure your reservation.
XCOR AeroSpace (http://www.XcorAerospace.com)
XCOR Aerospace Corporation, founded in 1999, is focused on the research, development and production of safe, reliable, reusable launch vehicles (RLVs), rocket engines and rocket propulsion systems being developed from its headquarters at the Mojave Air & Space Port in Mojave, California. CEO, Jeff Greason, served on the U.S. Human Space Flight Plans Committee. In just 10 years the firm has developed and built 11 different rocket engines and built and flown two manned rocket-powered aircraft. XCOR is now in the phased development of its next generation vehicle, the suborbital Reusable Launch Vehicle, Lynx. In addition to taking a pilot and one spaceflight participant to the edge of space, the vehicle will provide affordable launch services to academic, scientific, engineering, and observation-related markets.
RocketShip Tours (http://www.RocketShipTours.com)
RocketShip Tours, Inc. is the General Sales Agent for XCOR Aerospace and exclusive global provider of participant services for the Lynx suborbital vehicle. Located in Phoenix, Arizona, RocketShip Tours was founded by Jules H. Klar, an innovative travel entrepreneur. RocketShip Tours is represented exclusively by Space Tourism Specialists who have completed the comprehensive course of study at Space Tourism University. RocketShip Tours and XCOR Aerospace have developed a comprehensive program that emphasizes luxury, quality, and confidence. RocketShip Tours has committed itself to providing the safest and most rewarding experience possible. Supported by world-class facilities and experts in the fields of Rocket Science, Spacesuit Technology, Aerospace Medicine, and Luxury Travel, this is your chance to be among the first pioneering space tourists in history. RocketShip Tours has assembled the brightest, most innovative, groundbreaking, enthusiastic and dedicated team to offer you the most enriching and memorable experience of your lifetime.
XtraOrdinary Adventures (http://www.XtraOrdinaryAdventures.com)
Xtraordinary Adventures, LLC is a two-year-old Florida Limited Liability Company operating from Boca Raton, Florida and is reaching out world-wide to extend an opportunity to all interested space enthusiasts and adventurers desirous of meeting with others of similar interests and for registration assistance in going on a rocket propelled spaceship into suborbital space on XCOR's LYNX. Xtraordinary Adventures is dedicated to providing current, factual information, innovative ideas, interesting products, gifts and trip mementos and quality service to enable our discriminating participants in finding answers to satisfy their quest for space knowledge and memorable space related experience opportunities. To this end, we are continually challenged to explore different paths in bringing this excitement and education, in our unique style that Xtraordinary Adventures will be known for.
The founder of Xtraordinary Adventures, LLC is Mitchell J Schultz, innovator, world traveler, visionary and recognized as a leader in the world of alternate finance, travel and media He has also been active in charitable programs and fundraising for over 40 years. Mr. Schultz is a certified Space Tourism Specialist and graduate of Space Tourism University 2010. To secure your reservation and for more information he can be reached at (800)358-0655.
###