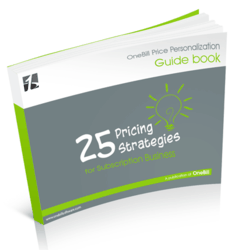 25 out-of-the-box yet easy to implement pricing strategies for online and subscription commerce
Santa Clara, CA (PRWEB) January 07, 2013
OneBill Software, a leading provider of billing solutions for online & subscription commerce, today announced a new publication, titled "25 Pricing Strategies for Online and Subscription Commerce" available for download from the OneBill Software website.
The quick reference eBook presents a compilation of pricing related ideas and tips that will help businesses re-invent and rejuvenate deals offered and improve profitability. The 25 page pricing eBook offers an understanding of the importance of focussing on innovative pricing deals and a wide variety of strategies to choose from. The sheer number of options makes it easy for businesses to pick and choose specific strategies that suit their operations and requirements best. Strategies are flexible and can be used in conjunction with others. Above all, the eBook offers an insight into not just pricing strategies but also the fact that creative pricing is entirely possible and easy to integrate with existing operations with the right subscription commerce platform.
Speaking at the launch, JK Chelladurai, CEO of OneBill Software said: " As the world moves online for all its buying needs, consumers are increasingly being driven by the best deal. Therefore it is critical for businesses to think innovatively and bring some creativity into their pricing strategies. This eBook is the result of our long and varied experience in the field. Each strategy is a guaranteed success and easily executed with the right subscription commerce platform. We hope this will help companies to think outside the box and not just implement these ideas but also come up with exciting ideas of their own".
"Customers like Jamcracker, Iridium, Sunguard, Granola and others have the flexibility to change their business and pricing models and be more responsive in their marketplaces."
The 25 PRICING STRATEGIES FOR ONLINE AND SUBSCRIPTION COMMERCE eBook can be downloaded from HERE
OneBill Software is a Silicon Valley software company with development operations in Bangalore, India. The company was founded in 2009.
Contact: Joann Ricci
biz(at)onebillsoftware(dot)com
http://www.onebillsoftware.com