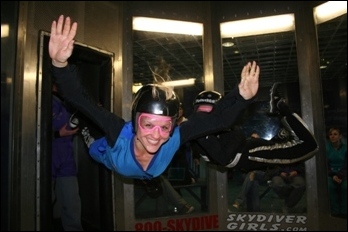 Young women can overcome extreme adversity, someone telling you that you are not good enough or the feeling that life has presented too many obstacles for you to overcome.
Lake Perris, CA (PRWEB) March 26, 2007 -
Sober College's substance abuse treatment and alcohol rehab program recently added a new addition to its treatment repertoire. Sober College Women's Empowerment Day, believe it or not, is the brainchild of a man, Brian Brekke, Operations Director for Sober College… and it specifically addressed women's issues. Brekke, a licensed addictions counselor and a member of the US Parachuting Association, teamed up with Mary Tortomasi, Perris Valley Sky venture and KFC of SkyDiverGirls.com for their Women's Empowerment Day.
Preparation for Women's Empowerment Day consisted of a regimented ten-day event, culminating at the wind-tunnel. The week began with an Empowerment Course which focused on the classification of young women in Society.
"Young women face many different obstacles in life than young men and it is important to recognize and provide care for such situations," said Loree Cohen LCSW, Clinical Director for Sober College.
The 10 day event also included: Group Therapy, in which the girls were able to share there own personal struggles and bring to the table issues they have faced or may face in the future; 12-Step Classes, in conjunction with women's empowerment; and a Physical Fitness Program, in preparation for the tunnel.
The Message of Women's Empowerment (Gender Specific Treatment):
KFC and Mary began the day by introducing a new way of thinking to the young women. "There are no high points without a low point. We have to look at our difficulties and use them as fuel to overcome obstacles in our lives. You have to figure out what motivates you and what makes you want to get out of bed in the morning. To think is to create, so think positively." The instructors reviewed the emotional growth activities they had been heavily involved in through out the week and introduced the wind-tunnel as the pinnacle tangible act of empowerment.
"I've know about these girls for some time and ever since we started Sober College's Women's Program I have wanted to have them interact with our students," explains Brekke. "It's the perfect combination of substance abuse treatment, fitness and authentic life skills. When we think about the women's program as Sober College through a female lens, this day is the perfect picture for what we envisioned. As the architect of this idea, I knew one of the best ways to reach our female students is for me, as a man, to get women like Mary Tortamasi and KFC of Skydivergirls.com, involved."
According to Tortomasi, "The two focuses I really wanted to drive home was that we all have the power to set our own destiny and that as young women, these girls don't have to follow societies stigma, gender prospective and others expectations of what you have to accomplish in life". She stressed the importance in having the internal motivations, tools, and ability to recognize that, "Young women can overcome extreme adversity, someone telling you that you are not good enough or the feeling that life has presented too many obstacles for you to overcome."
Indoor Skydiving requires you to fly in a 120 mile per hour vertical column of air and experience the same feeling of freedom and fun a skydiver does. One by one the women then made their way into the wind-tunnel, flying solo for sixty seconds at a time. For most, it was facing the ultimate fear in their life, letting go and experiencing powerlessness. Katherine, who arrived from a primary rehab facility the day before, "This is the most amazing experience of my life. I am so happy to be here facing my fears. It makes me feel like I can do anything as long as I trust in myself. What a great learning experience for me."
About Mary Tortomasi and Perris Valley Sky Venture:
Not only is she able to spin at will falling towards the earth from 10,000 feet, Mary Tortomasi has over 1,500 skydives, runs the Perris Valley Sky Venture Wind-tunnel and is a Masters Level Skydiver. Mary is an AFF rated Instructor, a Women's Skydiving World Record holder and earned a Silver Medal in Sky Surfing. Additional Certifications include, Vertical Wind Tunnel and Inline Skating Instructor and a Body by Jake Personal Trainer to the stars.
About SkyDiverGirls.com:
"You can do anything you set your mind to do," says KFC, a previous US Navy Officer, College Teacher and co-founder of SkyDiverGirls.com. "We created our website to embrace the beauty of powerful, strong women that go beyond their limits for the thrill of their lives. Through extreme sports, these women find they experience their own capabilities and understand there are no boundaries to enjoying their lives.' Skydiver Girls features a special guest that shares their extreme experience online each month.
About Sober College Women's Alcohol and substance abuse treatment program:
The Sober College Women's Program was designed by and for young adult women and has been described as "Sober College through a Female Lens." Sober College, headquartered in Southern California, is a small private institution providing sober residential and alcohol rehab treatment environments for young adults. While education focused, they also provide a range of drug treatment and intervention options for those that are struggling to overcome the impact of drugs and alcohol. The Sober College curriculum builds core competencies in life skills, employment, academics, emotional well-being and fitness.
More Information on Sober College:
Annika Richards, Public Education Director
Alcohol rehab and substance abuse treatment program
818-795-8687
###