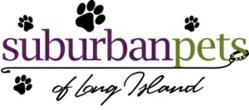 Massapequa, New York (PRWEB) April 08, 2013
Convenience! Suburban Pets is available when customers need them: On short notice, at odd times, but best of all, they care for owners pets with a smile! Customers may be running late at work or unable to stop home for a feeding. If a family is on vacation and need someone to take care of their four-legged family members. Whatever the case may be, Suburban Pets will be there!
Recently Suburban Pets launched a blog post talking about their striving for excellent customer service and satisfaction. Please read some excerpts from their blog:
Experience! The team at Suburban Pets is one with several years of experience in handling dogs of all sizes, cats and other pets. They are dedicated to ensuring pets are cared for with the most TLC!
Knowledge! The team of walkers at Suburban Pets holds certificates in Dog and Cat First Aid from the American Red Cross. In the event of a medical emergency, their walkers are trained and have a protocol in place to ensure that the best approach, is always taken, to keep pets safe from harm!
Insured! The entire team at Suburban Pets is insured and bonded, which makes the pet owner, feel safe that someone is coming into the home. They pride themselves on being honest, and are happy to provide proof that every walker is covered on their insurance plan.
So why not call Suburban Pets today? Dog tested, owner approved!
For more information on Suburban Pets please visit http://www.suburbanpets.com