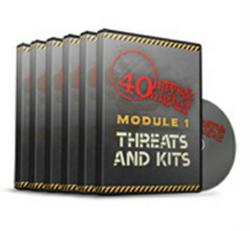 To an extent, the entire world could use preparation advice, because disasters can happen anywhere and wait for no one.
Austin, TX (PRWEB) May 07, 2012
Today's AbsoluteRights.com article said that there may be a suburban prepper living right next door, and the typical person wouldn't even know it. The growing attention being paid to emergency disaster preparation is bringing awareness to the real threats we face daily, and the steps we can take to protect ourselves against them.
In an attempt to encourage that mindset, the article said Absolute Rights is offering the most comprehensive survival training course they've ever released. "40 Days and 40 Nights" is the product of Absolute Rights' experts and their survivalist experience. The end result is a six-module training course that covers everything there is to disaster preparation, said the article.
Finding out how to survive a disaster isn't difficult once people understand the fundamental survival skills that everyone should obtain. The article said this training course describes the priorities and critical aspects of preparedness that should be addressed before someone can be considered a suburban prepper.
The modules in "40 Days and 40 Nights" describe the top 25 threats that could happen, and the right ways to prepare for and survive them. They cover food supplies, making sure to stay within a reasonable budget. Communication and electrical power issues are addressed by the modules, as are medical concerns, especially when hospitals can't be reached and relief is still days away.
The viewpoint of a prepper should be embraced and adopted, because they have the mindset everyone needs to have, the article said. To an extent, the entire world could use preparation advice, because disasters can happen anywhere and wait for no one. It only takes a few important steps and a mind adjustment to be prepared for anything, the article said.
Absolute Rights informs patriotic Americans on their given rights, plus helps protect those rights from government intrusion. Most importantly, it prides itself on alerting people when their rights are being threatened, creating an active and informed community. For more information, be sure to visit AbsoluteRights.com.
The article said if someone has been preparing for some time and has the skills and supplies to keep them alive for 40 days, than they've made a fantastic life choice. If someone has never before considered their preparation level, then it's safe to say they need "40 Days and 40 Nights." If a person is anywhere in between, there's still work to be done. The article said to ensure survival for as long as it takes to recover from any disaster. Get the perspective of a suburban prepper and subscribe to the training course today, it said.