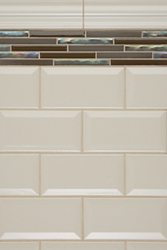 We believe that our Subway Tiles are among the highest quality offered in the ceramic tile industry.
Tempe, AZ (PRWEB) March 3, 2011
Cottage Lane subway tile is the newest collection of ceramic tile from AnchorBayTile (http://www.anchorbaytile.com). The collection is available in both a 3" x 6" and a 2" x 4" size in either a beveled or a flat edge. Cottage Lane subway tiles are recommended for interior applications for either residential or commercial design projects.
"We are proud to offer our ceramic subway tile collection which we believe is made with the highest quality standards of any subway tile in the ceramic tile industry. The thick, double-fired ceramic body construction and the glaze quality of the Cottage Lane ceramic tiles we believe make our tiles far superior in quality to other subway tiles in the marketplace. In addition, we make the Cottage Lane subway tiles as a complete collection consisting of both 3" x 6" and 2" x 4" tile sizes, with full trim and a wide selection of liners and borders to choose from said Stephen Khan, President of AnchorBayTile".
Subway tile has been a timeless design favorite in kitchens and bathrooms for homeowners and interior designers for many years. With both a beveled and a flat edge tile available in either a 3" x 6" or a 2" x 4" size, the Cottage Lane Subway tile collection is a perfect ceramic wall tile choice for kitchen backsplashes and bathroom showers. The beauty that subway tiles bring to any project is why subway tiles are a desirable materials choice for both commercial and residential projects. Cottage Lane subway tiles are in-stock and they are sold exclusively by AnchorBayTile.com.
###