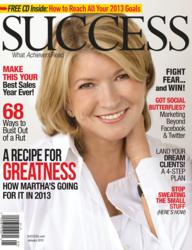 With carefully tousled blond hair and minimal makeup, the 71-year-old former model appeared at least a decade younger, and seemed remarkably refreshed for a woman who sleeps an average of four hours a night.
Dallas, TX (PRWEB) December 11, 2012
"DO NOT SCRAMBLE!" said the January SUCCESS magazine cover celebrity sternly to her interviewer, who was also acting as sous-chef. Seems simple enough, but nothing in Martha Stewart's life is as simple and effortlessly beautiful as she makes it appear, as SUCCESS found out in this exclusive interview during another turbulent period in the lifestyle diva's topsy-turvy business career.
The voice of domestic elegance is one of America's most famous modern rags-to-riches stories with many a twist in the road, including an insider trading conviction, a tiff with one of America's favorite retailers, and now an empire in financial decline. Is she worried? SUCCESS editor Susan Kane thinks not. "Martha is a classic example of what entrepreneurs need to learn most: resilience. Know your strengths—and that in order to make smart decisions and take smart risks, you must first prepare, prepare, prepare."
As Stewart explains, it all gets down to being patient and not leaping in too soon and scrambling your success. Find out more about the once and no-doubt future queen of lifestyle chic in this absorbing and intimate portrait of America's most maligned and admired businesswoman. Will Stewart's work continue to be relevant in 2013? How does she "keep on keeping on?" What can she teach all of us about staying calm and doing our best work under pressure?
Kane, the former editor in chief of Parenting magazine and current editor in chief of SUCCESS, has appeared many times on Good Morning America, Today, 20/20 and local TV shows, and is available for interviews to answer these questions. To schedule an interview, please call Rachel Albert at 212-886-6704.