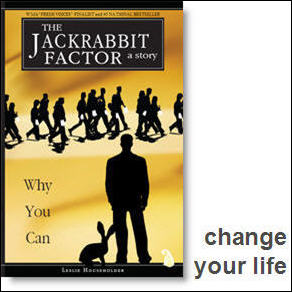 The Jackrabbit Factor: Why You Can
Mesa, AZ (PRWEB) August 23, 2006
Self-help books are a dime a dozen nowadays. "How to Make Money", "How to Build Wealth", "How to Prosper", "How to Lose Weight"... they all start to sound alike, and although they may provide some good information, when it comes to the reader being able to apply what they teach, most of these self-help books aren't worth more than, well a dime.
But here's one self-help book that is streaking out of Arizona again called, The Jackrabbit Factor: Why You Can" that actually facilitates the needed change in a person's psychology by the time they turn the last page.
The story wraps itself around the analogy of a man who absurdly barks and jumps in an empty field in order to produce a rabbit, simply because at one point, he witnessed a dog which caught one, doing just that.
However, he realizes, it wasn't the barking and jumping that produced the rabbit for the dog. If the man were to simply copy the dog, he'd find that his activities will more likely scare them away. A rabbit hunter must SEE a rabbit of his own before springing into action.
By the same token, you must not heed any "how to make money" advice of well-meaning prosperity gurus without having your own eyes on a specific goal. It isn't what the winners did that made them successful, it's why they did what they did that brought them the success. You could be repelling the very success you are trying to achieve, because you are "busy" doing what a winner has done, but not directed properly.
Then, how do you "see" the prize? Watch the 4-minute flash movie based on the book which gives you the first critical piece of the law of attraction.
"The Jackrabbit Factor is one of the best things that has ever happened to me; I cried, I got excited, I identified, I got chills, and more. - Manos"
"I'm...feeling better and more positive, loved, guided and directed than I ever have in my entire life. - Suz"
"...we will actually double our income this next year. What excites me the most, is that because these principles really worked on everything we've experimented with so far, there is no limit to what we can achieve in the future!!!
Alisa H"
If you were to meet a recent Jackrabbit Factor reader, you'd probably hear them say something similar to the countless comments received at the personal development website that The Jackrabbit Factor calls home.
Instead of giving age-old, self-help advice that everyone has heard before, the author gives readers a story they can hang their hats on, understand and immediately apply in their lives. It changes the way they see life. As a result, they will find that they are more at peace, more directed, more effective, and definetly more productive toward building true wealth in their lives... in a more natural way.
The story is centered around a young couple who struggle like the rest of us to make money. Meet the Goodmans, who have now come to the end of their financial rope. Felicity slips up, berating Richard for his inability to provide for the family. Defeated, Richard disappears into the woods behind their home, and Felicity fears he has gone to end his life. Guilt-ridden, she searches frantically, trying to keep little Matthew unaware of the possible tragedy.
Richard has embarked on his own strange and enlightening journey where he discovers his own best advisor: his inner voice. Ultimately, the story teaches the secret behind the voice of inspiration; and, until the readers experience the journey for themselves, they must wonder: where has he gone, and what is required of Felicity before she can find him?
With a story this unusual you'd expect the author to be a little different too… and she is. The author Leslie Householder isn't your everyday prosperity guru... she's generally busy with her six young children and making preparations for the arrival of number seven.
Besides being busy with a large family, she takes the time to share her secrets of success in unique and entertaining ways through her personal development seminars and law of attraction articles. She also gives away a free guide on how to make money using these success principles to help her readers get on the right path.
Going into its second year since it first hit the scene, her story, "The Jackrabbit Factor: Why You Can" continues to empower its readers with a second edition released last month. What has been the key to its endurance in an over-flooded market of self-help books? Reader response. Word of mouth advertising has been the primary reason it continues to spread like wildfire.
Want a taste of this "experience"? Read the first chapter, which is available for free on her secrets of success webpage.
###