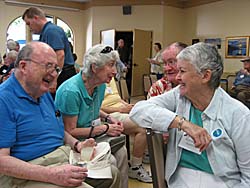 Palo Alto, CA (PRWEB) June 03, 2013
The non-profit senior services agency Avenidas will celebrate its 25th Annual Lifetimes of Achievement award, which honors the commendable contributions of six seniors in the community. This year's chosen group has made contributions both professionally and through volunteer service. The public is invited to attend a garden party to honor the recipients on Sunday, May 19 from 3 to 5 p.m., at the private home of Michael and Paula Rantz, (located at 330 Santa Rita Avenue, Palo Alto, CA 94301). Music will be provided by the Jazz ConneXion, and people will get to sample delicious appetizers and wines and other beverages.
The 2013 recipients were chosen from a group of over 40 nominees. "This annual celebration of older adults who make things happen is near and dear to the hearts of many folks in the community," Avenidas CEO/President Lisa Hendrickson stated. Dr. Tom Fiene is a community physician, diagnostician and teacher; Ben and Ruth Hammett are both environmental btorenefacs and dynamic community volunteers; Al Russell is a strong education advocate; Judith Steiner is the former executive director of Hidden Villa and the founder of Innovative Housing on the Peninsula; lastly, Katsy Swan, landscape designer known for her work on the gardens at the Stanford University Medical Center.
John Sobrato, Chief Executive Officer of the Sobrato organization, will make a presentation at 4:15pm, followed by Avenidas CEO Lisa Hendrikson, who will highlight the honorees.
Tickets ($75 each, of which $50 is tax deductible) can be purchased online at https://www.avenidas.org/activities/conferences-events/achievements. Proceeds will go to help fund programs offered at Avenidas, which provide a range of services to seniors, caregivers and families.
About Avenidas:
Avenidas is a non-profit agency that seeks to create successful aging for older adults in a community that supports and celebrates older adults. They provide a wide range of support options, memberships, information, classes and services that enable people to stay active, maintain their independence, help their aging parents, or care for a spouse. They provide the resources for caregivers and the resources for older adults to support positive aging. Their innovative programs and compassionate staff (paid and volunteer) help enrich the lives of more than 6,500 mature adults and their families each year. A community-based nonprofit organization, Avenidas serves the San Francisco Bay Area mid-Peninsula communities of Palo Alto. For more information, please visit their website at http://www.avenidas.org.