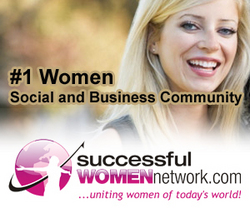 Apo, AE (PRWEB) April 18, 2009
The Successful Women Network development team are working towards opening a site which was the brain child of Gueler Wilkins, the CEO of the Successful Women Network. The original project plan called for a site with a dual purpose, a social community for professional women to use as a forum to express ideas and communicate with other likeminded women, and as a business platform, aiming to bring women together in an atmosphere conducive to encouraging mutually beneficial commercial networking.
Gueler Wilkins tells us that, "The original idea for the Successful Women Network stems from the fact that as a successful business woman, I found myself yearning for a networking site which would allow me to interact with other women of a similar nature. I quickly came to realise that all of the established business networking sites were predominantly male driven. I also began to notice that males use networking sites in a different way to females. I decided to spend some time designing the optimal feature set for a networking site focused solely upon the female half of the population. I believe that every woman can be successful in what she does, be that raising a family, running a business or simply trying to keep afloat in this crazy, male focused world, this is why I chose the name Successful Women Network."
The Successful Women Network is basically a social networking site which extends the concept by adding obviously business type applications, and this is no more evident than in the upgradeable membership plan. For a small monthly fee, women who sign up for the Successful Women Network will be able to use the site advertisement free, they will also gain access to the most useful business related functions. By paying for the enhanced membership scheme every woman is free to use every part of the site, and without being bothered by advertising. Gueler Wilkins comments once again, "We decided to opt for a split level membership plan for very good business reasons. We want to encourage a more professional membership and make the Successful Women Network a world class business resource, for all types of women in commerce and industry. We feel strongly that by charging a nominal monthly fee for advanced membership, we will be ensuring that only those women, who are serious about extending their career or business through networking, will become the most empowered and prolific users of the Successful Women Network site."
This is an aggressive business model, and a brave move from a new website provider. It is also a very well thought out concept. As more and more social and business networking sites become increasingly bogged down by trivial use and frivolity, people have begun to seek more selective and organised sites to use as a networking platform. It could well be that the Successful Women Network have come up with the right idea at the right time.
###