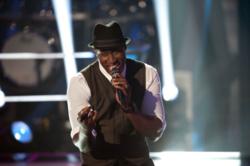 "I believed walking away was giving myself a chance."
Dallas, TX (PRWEB) October 10, 2012
Jermaine Paul's transformation from struggling New York singer to full-fledged musical star is an inspiring tale featured in the November 2012 issue of SUCCESS magazine.
Born the fifth of 10 children in a rough New York neighborhood, Paul was fortunate enough to have parents who used music to guide their children toward productive outlets. Paul enlisted the help of various local musicians who recognized his talent, and later had small success when his group, 1 Accord, was featured in a widely released movie, but that initial success soon fizzled. Paul looked to N.Y. nightclubs to showcase his talent. With interest from record labels fading, Paul stayed determined and prepared to reach his goals; preparation that included remaining strong both mentally and physically for an opportunity that would open doors. And indeed, an opportunity presented itself one fateful night. During a performance, Paul impressed Grammy Award winner Alicia Keys herself, earning a position as her backup singer for eight years. Paul's talents grew as well as his dreams.
But Paul had bigger aspirations than singing backup. Four years later, he lobbied successfully to be Keys' opening act, but knew this was not his end goal, eventually leaving to become a solo artist. "I believed walking away was giving myself a chance."
By taking his leap of faith, Paul declared to the musical industry, "Consider me." As the father of four young children, he knew it was a huge financial risk but recognized that this defining moment could reshape his life and that of his family.
With the support of his wife and children, and with his lifelong faith, Paul auditioned for and subsequently won Season 2 of the reality singing competition, guided by the musical mentorship of country superstar Blake Shelton. Winning $100,000 along with a recording contract with Universal Republic that gives him creative control over his next three albums, Paul is reaching new heights on his journey to success.
To read more about Jermaine Paul and hear his exclusive song, be sure to pick up the November 2012 issue of SUCCESS magazine on newsstands October 9.
About SUCCESS magazine
SUCCESS empowers entrepreneurial-minded individuals to improve the performance of their businesses and the quality of their lives through solution-oriented content and inspiring real world examples. SUCCESS magazine is published by SUCCESS Partners™, owned by VideoPlus L.P. VideoPlus was established 25 years ago and is an expert at a range of services, including magazine publishing and custom solutions.
Visit SUCCESS magazine at http://www.success.com.