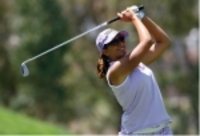 "@NicoleHage: I just signed the contract w/ Successories! They will be on the front of my hat this year!"
Boca Raton, FL (PRWEB) March 26, 2010
Successories is proud to announce that we are sponsors of Nicole Hage as she enters her first LPGA Tour.
"@NicoleHage: I just signed the contract w/ Successories! They will be on the front of my hat this year!" she tweeted earlier today after having signed a couple dozen golf balls and walk around Successories handing them out and introducing herself to everyone from shipping staff to CEOs.
Nicole said that qualifying for the Tour "is a feeling that I have never felt before, and want to feel again soon." She will start her LPGA Tour season on March 25 at the Kia Classic in Carlsbad, California. Hage is so excited to get started this year. She said that she still struggles with wedge play, but it pumped to get cracking.
Successories and Nicole Hage are a match made on golfing green heaven. Ever since she was young, Hage was raised around the Successories sentiments and has taken "Make It Happen" as her personal mantra. And now Nicole Hage will help us build out our golf inspired motivational posters series as we work with her to continue the motivation Successories has always supplied.
Nicole Hage tweets: "We are going to team up to come out w/ a few great products featuring me and some of my favorite inspirational sayings and quotes! I am so excited for this opportunity!!"
Nicole Hage Profile:
Hometown - Coral Springs, Fla.
Birth Date – 8/4/1985
Birthplace – Miami, Fla.
College – Auburn University
Degree – Communication
Turned Professional – 2007
Joined FUTURES – 1/8/2008
Career Earnings – $20,369
Career Best Finish – 3rd
Profile

Competed in five U.S. Women's Open Championships (2002, 2005, 2006, 2007, 2008).
Member of the 2002 PING Junior Solheim Cup Team and Canon Cup East Team.
Competed in the 2003 U.S. Women's Amateur Championship.
Recorded 21 top-10 finishes in collegiate competition while at Auburn University.
2004 Duramed NGCA All-American Second Team selection.
Named the 2004 SEC Player of the Year.
Three-time Duramed NGCA All-American Honorable Mention selection (2005, 2006, 2007).
Current member of the LPGA Tour (2008-present).
Professional Career
In 2008, carded a career-low 67 in the final round of the Navistar LPGA Classic Presented by MaxxForce; returned to the LPGA Final Qualifying Tournament, where she tied for 34th to earn Priority List Category 20 for the 2009 LPGA season. In 2007, turned professional in June; tied for 34th at the LPGA Final Qualifying Tournament to earn non-exempt status for the 2008 LPGA season.
Amateur
Hage had a successful junior career on the American Junior Golf Association (AJGA). She earned Polo Junior All-American honors in 2002 and 2003 and was a member of the 2002 U.S. PING Junior Solheim Cup Team and the 2002 Canon Cup East Team. A four-time National Golf Coaches Association (NGCA) All-American at Auburn University, Hage was named the 2004 Southeastern Conference (SEC) Player of the Year and Freshman of the Year, and was a member of two SEC Championship teams (2005-06). She earned First-Team All-SEC honors in 2004 and 2007 and was a Second-Team selection in 2005-06.
Successories on Twitter and Facebook
###