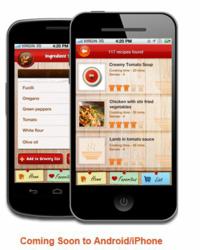 The SuChef app helps families cut back or eliminate food waste, which can add up to $1,000 or more each year.
BALTIMORE, Maryland, (PRWEB) June 04, 2013
SuChef, LLC has launched the innovative SuChef mobile recipe app for iPhone and iPad. The highly anticipated app helps users save money and time on groceries, shopping, meal planning and cooking by instantly searching more than 100,000 recipes to find recipe options for ingredients users already have at home.
After downloading the SuChef app ($2.99) to an iPhone or iPad, users can speak, type, or barcode scan their ingredients to find the best matching recipes. Users can also search for new recipes without entering their own ingredients; by utilizing a broad list of specific criteria within the app, users can tailor their recipe searches to fit almost any lifestyle, food preference, or dietary restriction.
Developer Manne Darby designed the SuChef app to help people make quick meal planning decisions based on ingredients they already have in the pantry and fridge, saving unnecessary trips to the grocery store, simplifying meal preparation and offering more time to relax.
Darby came up with the idea for the SuChef app to save time in his own busy life as the father of seven, commuting to and from work over two hours each day. Data from the U.S. Bureau of Labor and Statics reports that Americans spend on average almost 50 minutes each day or a total of five-and-a-half hours each week grocery shopping, and that does not include the time spent just trying to decide what to cook.
According to Darby, Americans log more than 60 million online searches for recipes each month.
With only a little more than 100 million households conducting such a high number of searches, it becomes obvious that people routinely have no idea what to cook; finding the right recipes day after day through traditional online searches probably takes up more time than most people realize.
For families that cook more than three times a week, the SuChef app simplifies everything—from meal planning to grocery shopping, to finding recipes that suit individual tastes and needs.
SuChef users can save more time by finding recipes they like and use their meal planner to create a shopping list based on those meals, eliminating the need for grocery store runs several times a week.
The SuChef app also helps families cut back or eliminate food waste, which can add up to $1,000 or more each year.
The leading cause of food waste is food spoiling before anyone has a chance to eat it," says Darby. The second leading cause is food cooked in excessive amounts, which means leftovers are often thrown away.
"Many of us are also guilty of buying too much food that spoils quickly, including produce, eggs, milk and other foods with a limited shelf life."
SuChef can easily save $50 or more each month on groceries by providing users with recipes specifically selected to use food that has already been bought, which can put an end to groceries going bad before they're consumed.
The SuChef app can be downloaded from the Apple App Store for iPhone and iPad. The first 10,000 SuChef app downloads will be specially priced at 99 cents.
Download the app from the Apple app store, or for more information visit the SuChef website (http://www.su-chef.com).