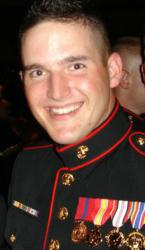 I want to help my fellow veterans.
Tampa, Florida (PRWEB) April 10, 2012
CollegeVeteran.com today announced it will use the $2,000 prize from its first place finish at the Southeast Entrepreneurship Conference at the University of Tampa to fund the development of a working prototype.
CollegeVeteran.com is a start-up website that will help veterans manage the transition from the battlefield to the college classroom.
"I want to help my fellow veterans," says CollegeVeteran.com Founder Paul Szoldra, 28, who made the transition from Marine Corps Sergeant to student veteran at the University of Tampa, majoring in Entrepreneurship.
CollegeVeteran.com will fill information gaps to assist service members in selecting the right college for them. Its college locator will provide essential information, including the Veterans Affairs (VA) housing payment rate for a school, and whether it has a significant veteran population. The site will also show if colleges have a Veterans Affairs certifying official on campus, an important measure of "student veteran friendliness."
"I never want departing service members to have to go through what I went through," says Szoldra. He remembers his frustration in trying to sort through confusing information turned up in Google searches. Szoldra says the worst part was that a lot of what he found came from shady for-profit online schools. "There are exceptions, but many are only interested in the federal GI Bill dollars," says Szoldra.
The transition from the battlefield rucksack to the college backpack is never easy.
Szoldra served in the U.S. Marines for eight years, in places ranging from Hawaii to Korea, combat in Afghanistan, and as an instructor at the School of Infantry. So he's not exactly a slacker. But when it came to planning his transition to college, he says: "I had no idea where to start."
Szoldra couldn't find answers to basic questions. What makes a good college for a veteran? How much money will I get in education benefits? How will other students react to me?
And he's not alone. The number of Veterans Affairs education beneficiaries has risen 76% in the last five years. And it's expected that one million military members will leave active service in the next five years.
Szoldra was fortunate to find an admissions counselor at the University of Tampa to walk him through the complex admissions and GI Bill benefits process. But he says most student veterans aren't so lucky.
CollegeVeteran.com was born during Szoldra's second semester. He participated in his first business idea pitch competition, and he was encouraged by the reception. "It made sense to people. They had just assumed that veterans are taken care of and there was no problem to be solved. But that's not the case. There is very much a problem: a lack of reliable, unbiased information."
While the Department of Veterans Affairs does offer a wealth of information on its own website, Szoldra says many veterans have questions that go unanswered.
That's why CollegeVeteran.com will provide a place for military members to connect with student veterans who have gone through the transition themselves. It will provide free web hosting for student veteran organizations. And its search tools will provide information on what resources are available to veterans on campus.
Szoldra calls his progress to date "an amazing experience" that has validated his concept. He's assembled a team and an advisory board that includes a university professor and a retired U.S. Army Major General.
Szoldra emphasizes what will make CollegeVeteran.com different and successful. "We are not some marketing firm. We're not an online college. We're student veterans and military members ourselves. Military members can learn from our mistakes. We know what it's like on the battlefield—rough and unpredictable. Getting into the classroom shouldn't be."
An early version of the site is already available at http://www.CollegeVeteran.com. Szoldra will be seeking additional funding once the prototype now in development is completed.