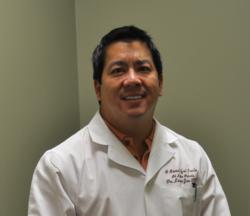 SUGAR LAND, TEXAS (PRWEB) November 07, 2012
A Beautiful Smile at Lake Pointe is offering a complete dental implant and crown for only $1,995 each for a limited time.
The special covers the dental implant procedure, including a custom-made prosthetic tooth constructed by a medical lab. Dental implants are a simple solution to the loss of a permanent tooth through tooth decay, periodontitis or injury without the use of dentures, crowns or bridges, which slip around in a patient's mouth.
"The loss of a tooth can be detrimental to a patient's oral and jaw health, speech and self-esteem," said Dr. Lance Jue, the lead dentist at A Beautiful Smile at Lake Pointe. "Losing a tooth can also cause the other teeth to move around, misaligning a patient's bite or causing them to need braces. The goal of this special is to help patients get the beautiful smile they want and need."
The special price coincides with two other specials going on at A Beautiful Smile at Lake Pointe: The Houston dental clinic is also offering half-priced veneers and 20 percent off all packages at its med spa.
To learn more about the dental implant procedure provided by A Beautiful Smile at Lake Pointe, click here.
About A Beautiful Smile at Lake Pointe
A Beautiful Smile at Lake Pointe is the Sugar Land dental practice of Dr. Lance Jue. It has served the Houston area's restorative, cosmetic and general dentistry needs for 19 years. Dr. Jue makes an effort to listen to every patient to give him or her the appropriate treatment. Earlier this fall, the practice opened a med spa, which offers treatments such as microdermabrasions, chemical peels, laser hair removal, laser vein treatment, wrinkle treatments and tattoo removal.
###