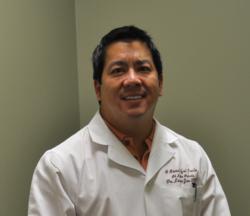 SUGAR LAND, TEXAS (PRWEB) April 15, 2013
A Beautiful Smile at Lake Pointe is offering 50 percent off two of its med spa products, Laser Genesis and laser hair removal, for a limited time.
Laser Genesis is a new, scientifically proven treatment for fine lines and wrinkles that gives patients the healthier skin they remember by stimulating the production of new collagen. The non-invasive procedure provides results in just four or five visits.
With the Sugar Land med spa's laser hair removal procedure, a laser emits light that penetrates the hair follicle without damaging skin to prevent the follicle from growing new hair. The treatment can be performed on men and women and usually requires about six treatments to fully remove hair.
Patients can have laser hair removal on many areas, including their underarms, bikini area, legs, upper lip, chin, ears, back, neck and shoulders.
"This special is very exciting for us," said Dr. Lenny Jue, the director of A Beautiful Smile at Lake Pointe's med spa. "These are two of our most popular procedures, and they provide patients with such great results, so we're glad to be able to offer them at such a reduced rate."
The special won't last long, so the staff at A Beautiful Smile at Lake Pointe encourage patients to book their appointment as soon as possible by calling 281-549-5177 or clicking here.
About A Beautiful Smile at Lake Pointe
A Beautiful Smile at Lake Pointe is the Sugar Land dental practice of Dr. Lance Jue. It has served the Houston area's restorative, cosmetic and general dentistry needs for 19 years. Dr. Jue makes an effort to listen to every patient to give him or her the appropriate treatment. In the fall of 2012, the practice opened a med spa, which offers treatments such as microdermabrasions, chemical peels, laser hair removal, luxury facials of caviar and gold, wrinkle treatments and tattoo removal.
###