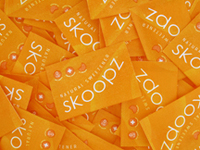 Atlanta (Vocus) October 22, 2010
While it is logical to assume a company would launch its inaugural product in its hometown, MySkoopz, Inc. took a different path. This spring, the company launched its 100-percent, all-natural, great-tasting sweetener -- skoopz® -- in Springdale, AR. In August, skoopz rolled out in retail outlets throughout Texas and Shreveport, LA. This month skoopz arrives in its hometown of Atlanta, appearing on shelves at the following Natural Foods Warehouse locations: 6000 Medlock Bridge Parkway in Johns Creek and 10591 Old Alabama Connector Rd in Alpharetta. skoopz also will be carried in two new Natural Foods Warehouse locations opening this winter: 12315 Crabapple Rd in Alpharetta (opening mid-November) and 670 N. Main Street in Alpharetta (opening in late December).
''Our original plan was to roll out in Atlanta as a first stop, but opportunity knocked first elsewhere and we went with it,'' said James Highsmith, CEO of MySkoopz. ''We're thrilled to be able to offer skoopz to our hometown shoppers, especially with a retailer like Natural Foods Warehouse. They are the largest natural food market in the Southeast, and no one knows natural foods like they do. We're honored that they are including skoopz among the products they carry.''
skoopz is made from a proprietary blend of all-natural ingredients, providing consumers with a sugar substitute that offers a sweet taste, has no calories and is diabetic friendly.
"Consumers are looking for natural, healthy options for themselves and their families. It's the reason why our business is growing, and why we are excited to see a quality product like skoopz arrive on our shelves. skoopz provides our customers with a healthy, great-tasting, 100-percent all-natural sweetener that is competitively priced," added Amy Head, co-owner of Natural Foods Warehouse.
skoopz is currently available in fifty and 100-count single-pack boxes. For consumers who live in areas where skoopz is not yet available in a retail outlet, skoopz can be purchased online at http://www.skoopznatural.com .
About skoopz®
skoopz® is the all-natural, economically-priced sugar substitute that offers consumers satisfaction without compromise. skoopz is made from a proprietary blend of all-natural ingredients, making it a perfect option for consumers seeking a no-calorie, chemical-free alternative to sugar. skoopz is owned by Atlanta-based MySkoopz, Inc., a company committed to producing and distributing high-quality, all-natural products which are part of a healthy diet. To determine if skoopz is available at a retail location in your market -- or to purchase skoopz online -- visit http://www.skoopznatural.com . You can also follow skoopz® on Twitter and Facebook.
Media Contact:
Sharon Kraun, Marketing Matters
678.468.0064
###