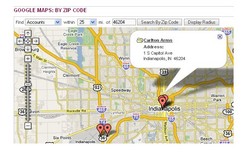 This is a powerful tool unlike anything that has previously been developed for the Sugar Suite. Of course there have been mapping functions available with Sugar for a long time, but none have the capabilities of this new plug-in
Chicago, IL (PRWEB) January 8, 2008
Intelestream, Inc. today announced the release of SugarMaps, a plug-in that fully integrates the Sugar Suite line of CRM applications with Google Maps technology. The plug-in provides a module where maps and place marks are displayed according to a wide range of user determined criteria.
"This is a powerful tool unlike anything that has previously been developed for the Sugar Suite. Of course there have been mapping functions available with Sugar for a long time, but none have the capabilities of this new plug-in," states Jason Green, founder and CEO of Intelestream.
What is especially unique about Intelestream's product is its ability to draw maps from reporting results and geographical radiuses. "A user can, for example, generate a custom report displaying all prospective accounts in the hospitality industry employing 100-500 people within a 25 mile geographical radius of Indianapolis. The mapping module will then display the results with each account indicated by a place mark whose color and/or size vary according to preselected criteria. Driving directions can next be printed using each account as a waypoint. I am unaware of any other technology capable of doing these sorts of things with Sugar," comments Green.
Intelestream has developed the plug-in especially for clients who would benefit from the aid of sophisticated maps for marketing research, sales strategies, and logistics.
Although the plug-in offers a wide range of features that can enhance all instances of the Sugar Suite, the company plans to offer customized versions of product in order to meet the needs of individual organizations.
Pricing information for the plug-in is available by contacting the company directly.
About Intelestream, Inc.
Intelestream, Inc is an authorized SugarCRM partner specializing in developing ad-ons and providing professional services for SugarCRM products. With over 15 years of combined experience working exclusively with the application, the company's consultants provide the professional know-how required to match SugarCRM software capabilities with all business requirements. Intelestream concentrates on SugarCRM and nothing else.
For further information about the premier provider of SugarCRM consulting services, please visit the company's website: http://www.intelestream.net , or call (800)244-3775.
###