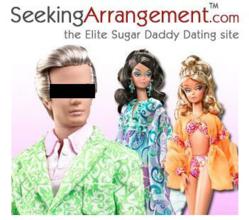 there are more than 15 sugar babies to every sugar daddy on SeekingArrangement.com
New York, NY (PRWEB) November 11, 2009
(PRWEB) November 11, 2009 -- Some might think Mattel's new Sugar Daddy Ken Doll is missing a few parts… a wheelchair, pot belly, bathrobe, and slippers aren't included with the new figurine, but according to most of the self-proclaimed sugar babies on SeekingArrangement.com - a dating site for mutually beneficial relationships" - most of today's real sugar daddies are under 65, relatively good looking, and don't come close to the Hugh Hefner stereotype of yesteryear.
Equipped with a profile on SeekingArrangement.com, Sugar Daddy Ken sets out to find his perfect Sugar Barbie. Here are some of the real messages he's received so far…
-- HAHA...... I'm size 0 32 DD
-- Hello Ken, I hope this letter finds you well and happy. I am a Boca girl and love Palm Beach! I would love to get together to see if we have chemistry. I am so happy that you have a little doggie to take care of you. I myself have a 14 year young Shih Tzu who has been the most important person in my life and has helped me through everything. Looking forward to meeting you! Have a lovely day!
-- I am 5'10, 125lbs, 36-25-36, my inseam on jeans is 36, I have the hardest time finding them long enough. Maybe you know where barbies shop???
As part of an ongoing campaign to encourage sugar babies to never settle for less than the perfect gentleman, SeekingArrangement.com has announced a giveaway of 5 Sugar Daddy Ken Dolls and a $1,000 grand prize to the sugar babies who find and most successfully woo the Sugar Daddy Ken Doll currently prowling the site.
It looks like Ken is off to a pretty decent start, but according to website officials, sugar daddy dating is no level playing field; "there are more than 15 sugar babies to every sugar daddy on SeekingArrangement.com".
"Any guy can realize their sugar daddy potential," says SeekingArrangement.com and SeekingMillionaire.com founder and CEO, Brandon Wade, "You don't have to be a millionaire, and it doesn't matter if you're a CEO, Doctor, Laywer or just Ken. As long as you have enough disposable income at the end of the month to spoil a sugar baby with, you too can be a sugar daddy."
So when did going online to find a sugar daddy become so popular? 20/20, The New York Times, Good Morning America, CNN and other major media outlets have all done exclusive stories on, you guessed it, SeekingArrangement.com - and in this economy, when people hear about women getting allowances upwards of $250,000 a year from men who live to spoil women, what results is nothing short of a sugar baby stampede.
HOW TO PARTICIPATE IN THE GIVEAWAY
To participate in the Sugar Daddy Ken Giveaway, please sign-up for a Free Sugar Baby account on SeekingArrangement.com. After signing up, login and search for Sugar Daddy Ken's profile for instructions. No purchase is necessary to participate.
###