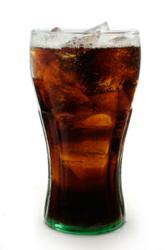 If you're serious about preventing gum disease then you should reduce your consumption of fizzy drinks as soon as possible.
Bournemouth, Dorset (PRWEB) February 27, 2013
Moves to cut the calories in sugary drinks do not go far enough – shoppers should still think twice before buying them, warn gum disease (gingivitis) experts at Eludril and Elgydium.
Leading drinks manufacturers have committed to reducing the sugar in their products in a government drive to reduce obesity.
A number of drinks makers have said they are cutting sugar and calorie levels in their products by up to 10 per cent – either by changing their formula or by reducing can sizes.
The move was announced last month by Public Health Minister Anna Soubry (Department of Health) at the Food & Drink Federation's stakeholder event Delivering Healthy Growth.
But it is not a panacea – much more action is needed, say the makers of Eludril mouthwash and Elgydium toothpaste.
"Just because a few big brands are cutting their sugar content by 10 per cent, that is no reason to get complacent," said a spokesperson for Eludril and Elgydium.
"Even after the cut, many fizzy and sugary drinks will still have a very high sugar content. This can accelerate the spread of plaque, leading to gum disease.
"If you're serious about preventing gum disease – and you should be because it has been linked with heart disease, diabetes, respiratory disease, osteoporosis and some cancers – then you should reduce your consumption of fizzy drinks as soon as possible.
"Do not assume that drinks which claim to be healthy or are aimed at sports people are good for your gums and teeth. They may not be, despite their electrolyte and calcium content," added the spokesperson.
Some people incorrectly believe they can mitigate the damage caused by sugary drinks by cleaning their teeth immediately after consumption.
But that is the worst thing they can do. Cleaning teeth immediately after consuming a fizzy drink risks corroding the dentin, the layer below the tooth enamel. It is better to wait 30 minutes before reaching for a toothbrush.
The proliferation of hidden sugars in fizzy drinks makes it important to watch out for the early signs of gum disease. Ignoring them can lead to a receding gum line.
Sore gums are an early indicator of gingivitis (gum disease).
So too is an inflammation or swelling in the gums, particular in the triangular areas between the teeth.
By the time gums start bleeding, gingivitis is already well established and doing damage.
Although gum disease has been linked to an ever-increasing number of serious medical conditions, the good news is that it is easy to diagnose and easy to treat.
Dental professionals have for decades recommended chlorhexidine as the best treatment for gum disease.
Chlorhexidine is an ingredient in both Elgydium toothpaste, which can be used daily, and Eludril mouthwash, which can be used as a short team treatment for gingivitis.
For further details about Elgydium and Eludril, please contact Nikki Warner-Green at Ceuta Healthcare on +44 (0)844 243 6661.
Eludril and Elgydium are represented in the UK by:
Ceuta Healthcare Ltd
Hill House
41 Richmond Hill
Bournemouth
Dorset
BH2 6HS
Tel: +44 (0)844 243 6661
Eludril Mouthwash is an antibacterial and analgesic solution which can be used to manage a number of oral health problems.
Its main use is to treat and prevent dental plaque formation and gum disease (gingivitis, also known as periodontitis) by preventing the build-up of bacteria.
Eludril Mouthwash can also be used to maintain oral hygiene in situations where tooth brushing is difficult, for instance, following oral surgery or in physically or mentally handicapped patients.
Eludril can also be used as a disinfectant for the cleansing of removable dentures and in the management of common mouth ulcers and oral candidiasis infections (fungus infections).
Elgydium Anti-Plaque toothpaste is specially formulated for sensitive gums and helps to prevent dental plaque and tartar build-up, the major causes of tooth decay and gum disease.
Elgydium Whitening, Sensitive and Decay Protection are also available as part of the Elgydium range of toothpastes.