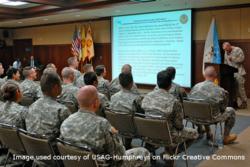 The Army's current approach...works well for many soldiers, but others need a more comprehensive approach: one that considers spiritual, emotional, and psychological risk factors for suicide.
(PRWEB) September 27, 2012
Stopping suicide in the military requires real attention to "spiritual, emotional, and psychological" risk factors associated with suicide, says faith-based website, followme.org.
That statement came as, on Thursday, the US Army held a service-wide stand-down for a day of mandatory training on suicide prevention in its ranks.
The training, which occurred at Army posts worldwide, was ordered by Army Vice Chief of Staff, Gen. Lloyd J. Austin, III. Soldiers, civilians, and Army family members were welcomed to attend this day of training, which senior officials hope will curb the record number of suicides in the Army in 2012.
In the month of July, the Army recorded 26 probable suicides, a record high since the Army began recording those numbers, the Washington Post reported on Thursday. The number of suicides each year has doubled since 2005, according to the Baltimore Sun. If the Army continues its current suicide trajectory, it will pace the record number of annual suicides set in 2011, according to the Post.
So the Army is taking a top-down approach to combating the suicide epidemic. "The Army has decided that the issue is so important to us that we're going to devote an entire day… that was otherwise devoted to something else and say 'That's not as important as this,'" Sgt. Maj. Raymond Chandler, III, told reporters on Wednesday.
Indeed, Secretary of Defense Leon Panetta has described the military's battle with suicide as "perhaps the most frustrating challenge" he has faced since taking that post, according to the Post's Thursday report.
So what needs to happen in the military to reduce the stigma associated with suicide and mental illness?
Many organizations committed to civilian suicide prevention are now entering the dialogue about suicide in the military. Followme.org is a faith-based resource bank for civilians and soldiers that are wrestling with suicidal thoughts. That organization's leaders seem to suggest that the military needs to consider the "spiritual side of the suicide equation."
"The Army's current approach to suicide prevention shows a lot of promise. It uses character traits that are valued in the military to show that suicide doesn't 'fit' into military culture. That works well for many soldiers, but others need a more comprehensive approach: one that considers spiritual, emotional, and psychological factors for suicide," said Pastor Jamie of followme.org.
What is this civilian organization doing to provide support for military servicemen and women? "We provide those spiritual resources for servicewomen and men who are all-too-aware of the spiritual element of wanting to commit suicide. We help people to understand the nasty progression of suicide from ideas to action in order that they might recognize it in friends and family," he said. For more information, visit http://www.followme.org.
Meanwhile, Panetta and Chandler are hopeful that this service-wide stand-down will raise awareness of suicide risk factors and suicide treatment options for those in the nation's armed forces. According to the Sun, the last stand-down devoted to suicide awareness was in 2009.