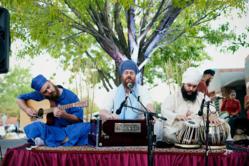 "There is a universality in our spirituality and that is the inspiration for our business." --Sat Bachan Anthony, one of Sukhmani's owners.
Albuquerque, New Mexico (PRWEB) September 05, 2012
Sukhmani—the exotic jewelry store located in Nob Hill—brings a taste of colorful, glamorous Bollywood to Albuquerque on Saturday, September 15, 2012 from 6 to 9pm, for the public to enjoy. Sukhmani's Bollywood Bash features Indian food, a designer jewelry fashion show beginning at 7pm, a Bollywood dance performance by the world renowned Bhangra Queen, Sat Pavan Kaur Khalsa (who has her own Bhangra Workout Aerobic Dance DVD on the market), demonstrations of the ancient art of Mehndi (henna tattoos), and a live DJ spinning the latest Bollywood songs.
The September event is meant to highlight the jewelry of Sukhmani, as well as the cultural and spiritual background of Sat Bachan Anthony and Sat Gurumukh Singh Khalsa, the store's sister and brother owners, and that of their parents, long-time New Mexico residents who owned the very successful Khalsa Trading Company for 30 years. Last year's Bollywood Bash drew over 300 people.
"There is a universality in our spirituality and that is the inspiration for our business," said Anthony, who is Sikh. "It is derived from a long story of where our family comes from, where we have been in the world, and how we believe we are all one." Both Anthony, born in Boston, and Khalsa born in Albuquerque, attended boarding school in India where they became friends with people from numerous cultures and countries. Their parents, Gurubachan Kaur Khalsa and Gurubachan Singh Khalsa, are both of Lebanese descent, their father was born in Ohio, and their mother was born in Mexico City. Their mother continues to design magnificent collections for Sukhmani.
"Our goal is to serve and uplift and take care of others," said Khalsa, "and we hope that we help people find a sense of peace and tranquility in our store and in our jewelry," he added.
Sat Bachan Anthony's and Sat Gurumukh Singh Khalsa's parents, students of His Holiness Yogi Bhajan, had to make the choices early in their lives about conforming their Sikh beliefs and appearance to Western ones or standing by their values. They chose the latter—an early example of a values-based business—and gave birth to a jewelry business selling Native American jewelry to museums and galleries throughout the American West, with their jewelry finding its way to collections around the world, including the Vatican Archives
Capturing the exquisite silversmithing of Bali, Turquoise of Tibet, royal blue Lapis Lazuli of Afghanistan, beautiful Baltic Amber, magnificent Pearls and a multitude of gemstones, Anthony and Khalsa continue their family tradition today at Sukhmani. Sukhmani also has a thriving wholesale business, which supplies their custom designs to stores across the United States, including the Smithsonian Museums.
Here, in Albuquerque, New Mexico, via upbringings in Ohio, Mexico City, boarding school in Indian, Sukhmani's Bollywood Bash in September offers an excellent chance to see the fruition and celebration of one family's dedication to their creativity, values, and universality through their remarkable jewelry designs.
###
Sukhmani (Perfect Bliss) located in Albuquerque's Nob Hill District, features exquisite designer jewelry. Designed to inspire, uplift, and create a sense of tranquility, Sukhmani designs incorporate a multitude of gemstones and hand-selected pearls from around the world—all showcased in one-of-a-king necklaces, rings earrings, and endless strands.