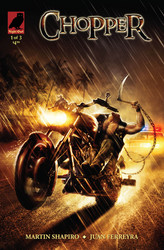 "The advertising landscape is experiencing a seismic shift toward brands engaging consumers on a deeper level by actually entertaining them with premium, social content versus interrupting them with inferior ads that simply get ignored." J.C. Christofilis
Los Angeles, CA (PRWEB) November 10, 2010
DILEMMA, a Los Angeles based Branded Entertainment and Marketing Communications Agency, has struck a strategic partnership with action sports lifestyle brand Sullen Clothing to launch an online entertainment experience based on the upcoming horror comic 'Chopper.' DILEMMA's founder, J.C. Christofilis, optioned the source material from award winning writer- and fellow UCLA film school alumni- Martin Shapiro at Comic Con San Diego this past July.
Essentially a contemporary spin on the timeless Sleepy Hollow mythology, Chopper's storyline revolves around a headless outlaw biker seeking vengeance in the afterlife by killing mortal sinners. Mr. Christofilis commented, "The project's fun, franchise worthy concept struck me as the perfect foundation to create an immersive story world that will harness a variety of transmedia storytelling tactics (via webseries, social media, etc.) to engage today's digitally connected audiences across multiple platforms. More importantly, I also recognized the project's branded content potential given the opportunity for truly bold companies to forge a relationship with robust communities of horror film and heavy metal music fans comprising our key demographics."
Sullen Clothing's co-founder, Jeremy Hanna, added "We pride ourselves on being an innovative, art-driven company and J.C. laid out a clear vision of how Chopper's creative execution will enable Sullen to authentically reinforce our edgy brand values with our existing fans, while driving awareness of our products with a new consumer base as well."
Chopper marks the first project moving into production from a scheduled slate of branded programming DILEMMA will distribute across a variety of traditional and non-traditional channels in 2011. The company has taken a proactive approach in matching brands to intellectual property developed in-house, but is also negotiating deals to craft custom, integrated media campaigns and content for clients wishing to leverage DILEMMA's extensive network of creative talent.
Mr. Christofilis added, "The advertising landscape is experiencing a seismic shift toward brands engaging consumers on a deeper level by actually entertaining them with premium, social content versus interrupting them with inferior ads that simply get ignored. Our company offers the unique ability to tap seasoned Hollywood writers and visual storytellers capable of understanding and executing hybrid brand strategy that drives solid analytics and results."
DILEMMA recently expanded Chopper's creative team to include contributions from Transmedia Producer, Nina Bargiel. In addition to television writing credits on Disney's 'Lizzie McGuire,' Nina co-created last year's hit MTV webseries 'Valemont' and spearheaded the transmedia campaigns for both Valemont and MTV films' 'Savage County.' Campaign elements for Chopper, including the project's core webseries, will be released starting early 2011 in conjunction with the announcement of additional sponsorship and distribution partners. Please contact Business Development at DILEMMA to discuss brand integration opportunities with Chopper, other in-house projects or custom campaigns.
Company Info:
DILEMMA is a hybrid marketing communications and branded entertainment agency that develops and produces innovative, integrated media solutions to grow any business. DILEMMA bridges the creative gap between Hollywood and Madison Avenue by hand picking the most talented strategists, designers, writers, musicians and visual storytellers capable of forging emotional connections between brands and consumers across all media and technology platforms. Our principals and partners have successfully produced content and launched brand marketing campaigns for companies and organizations including NBC, Audi, MTV, Warner Brothers Music, the US Snowboarding Team and 2010 Vancouver Winter Olympics.
Contact: Business Development/ J.C. Christofilis
Phone: 888-485-4154
Email: press(at)DilemmaLA(dot)com
Twitter: @DilemmaLA
Sullen is an art-driven lifestyle apparel brand based in Orange County, CA- the nation's hotbed for action sports and style-based clothing industries. From its humble beginnings in a Huntington Beach apartment in 2001, the company has grown into a nationally recognized name in the apparel world. Today, Sullen's reputable account base exceeds over 1800 retail locations that range from large mall-based chains to core skate shops and urban boutiques.
###