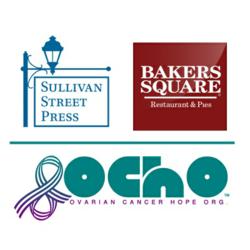 Bakers Square wanted to find a way to give a 'voice' to those who battle this disease. We hope by commemorating Ovarian Cancer Awareness Month at Bakers Square we will be able to generate awareness of this silent killer
New York, NY (PRWEB) September 19, 2012
In 2011, Bakers Square and Ovarian Cancer Hope Organization (OChO) raised close to $13,000 for the Foundation for Women's Cancer at fund raising events in stores across the nation. This year, the fund raisers bar is raised just as high and Sullivan Street Press has joined the effort.
Sullivan Street Press, leading Green E-Publisher, has been involved in fund raising to help fund a cure for Ovarian Cancer since February, 2012 when they started a blog written by and for women who live with Ovarian Cancer. Sullivan Street Press also promised to donate one dollar for each e-book download of the novel, Scags at 18, to the Foundation for Women's Cancer to fund a cure for this disease.
Working with OChO and with the Foundation for Women's Cancer, Sullivan Street Press continues with its stated mission statement to aid communities seeking to get their stories told. Bakers Square too sees a similar mission.
As Justin Krause, Marketing Manager of Bakers Square has said: "Bakers Square wanted to find a way to give a 'voice' to those who battle this disease. We hope by commemorating Ovarian Cancer Awareness Month at Bakers Square we will be able to generate awareness of this silent killer and communicate to those who battle the disease that they are not alone in the fight."
On September 20, in Gurnee, IL and on September 27, in Libertyville, IL two more fund raising events will take place at Bakers Squares stores. Ten percent of store sales will go to the Foundation for Women's Cancer. A free make-a-pie event is going on for kids to learn how to bake an apple or cherry pie. Helping to fight this cancer and raise awareness, the two stated goals of the Foundation, is what motivates Sullivan Street Press to stay involved in these ongoing fund raising events.
About Sullivan Street Press:
Founded 3 years ago, Sullivan Street Press entered the e-publishing domain to change the publishing paradigm. It recognized that for both financial and environmental reasons it was necessary to advocate for the rise of the e-book and the technology that makes all things digital possible. Responding to readers' concerns, many of whom aren't yet ready to commit to the e-book revolution, SSP began to have its books published in Print-on-Demand format on the Espresso Book Machine at McNally Jackson Books in New York City. Then it reached out to On Demand Books, the parent company of the Espresso Book Machine, to be included in their world wide system of Espresso Book Machines. In furtherance of the digital side of its publishing mission, the Scags Series is also available as in iPad app, powered by MAZ Digital. For more information on all the various ways in which Sullivan Street Press is using new technology to reduce pollution and waste in the publishing process, visit the website: http://www.sullivanstpress.com