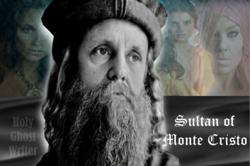 Alexandre Dumas' fans are smitten with the Sultan of Monte Cristo.
New York, NY (PRWEB) August 20, 2012
Alexandre Dumas' fans have been smitten with the first sequel, which until recently had only been available for purchase in bookstores (hard and softback) and on Kindle and Nook reading devices. But now, after a flood of requests via Twitter for more accessibility of the book, Sultan of Monte Cristo (SMC) fans can now download .MOBI or .EPUB format straight to their desktop. The .MOBI and .EPUB formats allow anyone with a computer and internet connection to access the book at a much cheaper price than purchasing it in their local bookstore, and without buying a Kindle or Nook device.
Both .MOBI and .EPUB formats offer an engaging way to view and manage eBooks and other digital publications. Digital content can then be read both online and offline. The Sultan of Monte Cristo, though not as lengthy as the 1,200 page Count of Monte Cristo novel, has had Dumas' fans clamoring to read it after rave reviews and media attention. Not only is there speculation that the mysterious author could be related to the acclaimed Alexandre Dumas, fans are reading and anxiously awaiting the subsequent sequels for clues to win $1,000 and national recognition, if they can figure out the real identity of the Holy Ghost Writer (the HGW).
With over 80,000 followers on Twitter, 536 downloads is less than 1% and thus would not normally be considered a "record high." However, the book's PR Manager says, "from one tweet, it's impressive... especially since we haven't really started marketing... it's all word-of-mouth."
Sultan of Monte Cristo can be found on twitter @sultanofsalem. To instantly download the book in .MOBI or .EPUB format, go to their newly revised website, SultanOfMonteCristo.com.