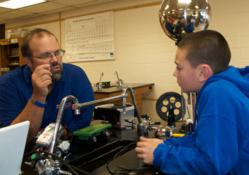 The United States came in 23rd or 24th in most subjects. We can quibble, or we can face the brutal truth that we're being out-educated.
Dix Hills, NY (PRWEB) May 14, 2013
Park Shore Day Camp of Long Island New York launches The Science Academy, an educational program designed for 1st through 5th graders, geared to stimulate their curiosity in science. 
For Summer 2013, Park Shore Country Day Camp, located in Dix Hills, Long Island, New York, has developed a curriculum centered around STEM and will take place in four fully equipped laboratories. This program will be student-centered, inquiry-based, and hands-on applications of Science and Engineering understandings. Students will be challenged through innovative and thought-provoking laboratory inquiries to develop hypothesis, test and analyze data, and draw pertinent scientific conclusions. These critical thinking activities are designed to develop a child's critical thinking, creative design skills, and their confidence in tackling new understandings of their universe. Activities at the Science Academy will encourage curiosity, creative thinking, and insight into the laws of Nature. With underlying principles in Physics, Chemistry, Life Science, Mathematics, and Engineering, children will develop a new way of approaching problems with the strength of the Scientific Method, with confidence to engage in new ways of thinking, and will be prepared to defend and critique their understandings in Science.
Recognizing that The United States has lost its number one status in the technological race due to a lack of trained professionals, Park Shore's Summer Day Camp has identified that now is the time to focus on our youth and begin a vigorous campaign to create the necessary science programs that must generate our future technicians who will help us succeed in the future. According to CNN:
"Almost everyone, from educators to government officials to industry experts, laments the lackluster abilities and performance of our nations' students in science, technology, engineering and math (know as STEM education)."[1]
Furthermore Results from the 2009 National Assessment of Educational Progress show:
"Only 34 percent of fourth-graders and 21 percent of 12th-graders were proficient in their science knowledge. Internationally, U.S. students ranked a mediocre 23rd in their science knowledge among countries studied by the Program for International Student Assessment." [2]
In a 2010 interview The Secretary of Education, Arne Duncan said:
"The United States came in 23rd or 24th in most subjects. We can quibble, or we can face the brutal truth that we're being out-educated." [3]
This decision to create this program stems from the realization that school administrators of elementary aged children are faced with shrinking budgets that lead to program cuts and priorities that are not geared to generate what is needed: young, inquisitive, hungry minds that want to strive for more information. The programs that are needed center around the STEM (SCIENCE, TECHNOLOGY, ENGINEERING and MATHEMATICS) curriculum.
Park Shore Summer Camp's Program is taking advanced learning to the private sector where the need for in depth, stimulating science programs can be offered. When funding is not an issue this type of programming has no limits. A young child should be able to walk into a laboratory setting with all that is necessary to motivate and drive them to inquire about more information. This drive and curiosity will give them a strong foundation for success in careers focused on technology development which will help improve the way we live. Since the technological age is moving in warp speed it is more critical than ever to prepare the youth of America with the skills necessary to solve the problems that await us in our future.
By exposing children at this young and impressionable age to exciting technologies, advanced learning skills, it has been proven to foster their desire to learn and continue their longing to continue advancing their own knowledge.
The program at the Science Academy at Park Shore will be universal in scope and sequence, truly integrating the basic sciences with the latest in technology and engineering. Students will have a core focus in four main areas:
Physical Science: Students will explore the laws of Physics and Chemistry using inquiry-based laboratory investigations. They will draw conclusions about the relationship between matter and energy.
Life Science: Students will explore the natural laws of the living environment. They will develop a "systems" approach to the flow of energy in the ecosystem, creating connections between living beings, plants, and planetary systems.
Robotics: Students will explore the technology of robotics, a growing area in the 21st century. They will develop programming abilities, as well as a growing understanding of mechanical systems while they build their own robots.
Engineering: Students will design and build a variety of projects applying the principles of the Engineering and Design process. They will build and test, revise and redesign projects based upon measurable outcomes. Strength in mathematics, statistical analysis, and problem solving will be nurtured and developed.
The Director of the Science Academy at Park Shore is, Julian Aptowitz, High School Physics teacher at Half Hollow Hills High School West.
Julian Aptowitz is also the advisor and founder of the First Robotics Team in Half Hollow Hills as well as the Science Olympiads Coach. Julian has been teaching science for 20 years. He has a Master's in Education Technology from C.W. Post College, a Masters degree from SUNY Stonybrook and a BA from the University of Michigan. His passion for science and his energetic approach to teaching will create a very exciting environment that will definitely motivate young students.
The Science Academy at Park Shore will begin on June 28, 2013 and will end on August 23, 2013. Students can enroll for either a two, four, six, or eight week session. The sessions will start at 9:15 a.m. and will end at 12:15 p.m. The program is set up for students to attend five days each week.
For more information visit the Park Shore Day Camp Science Academy homepage or call 631-499-8580.
1 http://www.cnn.com/2012/02/09/opinion/bennett-stem-education/
2 http://www.sciencedaily.com/releases/2012/04/120405131435.htm
3 http://www.nytimes.com/2010/12/07/education/07education.html