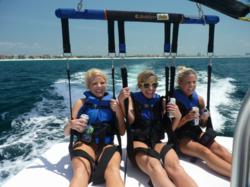 Parasail in Destin, Florida for ONLY $34.99 Per Person with TripShock.com!
Destin, Florida (PRWEB) June 19, 2012
Lodging and travel agency,TripShock.com is now offering some fantastic discounts and summer savings on popular activities, attractions and theme parks. These fabulous deals are offered in both Destin and Panama City Beach, Florida. Listed below are a few of the highly recommended activities designated for families of all ages to enjoy.
1) Parasailing in Destin is Now Only $34.99 Per Person. Enjoy the thrilling adventure of Parasailing in Destin, Florida with a breath-taking birds eye view of the glistening emerald coast. This is an Online Special Only, so hurry and book today at TripShock.com to claim this unbeatable price.
2) TripShock.com has newly introduced Gulf World Marine Park Admission Tickets at an awesome discounted price. Enjoy live marine animal shows with various marine life, fascinating marine exhibits or encounter a live shark and turtle feeding experience. Gulf World Tickets are starting at Only $16.99 Per Child. Visit TripShock.com today for a detailed listing of the park and more pricing information.
3) For a limited time only, Now through July 9th, 2012, TripShock.com is selling CraigCat Rentals at only $55 Per Hour. CraigCat Rentals are a fun way to experience the Gulf of Mexico here in Destin, Florida. With the two seater power boat CraigCat Rentals, customers can cruise the Destin Harbor or motor on over to Crab Island for the afternoon.
To check availability and view a detailed listing of some of the discounted activities and attractions offered this summer, please visit TripShock.com today.
About TripShock.com
TripShock! ® is the one and only online travel agency in the Northern Gulf Coast that enables travelers to book tours and activities directly. TripShock! offers trusted reviews from real travelers, photos, videos and other planning tools to help create the perfect Gulf Coast vacation. TripShock! attracts more than 500,000 visitors annually and partners with over 100 activity and lodging providers from Florida to Louisiana.