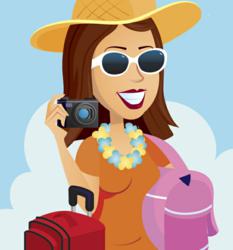 Natick, MA (PRWEB) April 30, 2013
With the start of spring, families everywhere are beginning to plan their summer family vacations. With so many wonderful summer vacation destinations to choose from, it can be challenging to find just the right place. Family travel expert, Jodi Grundig, Editor of Family Travel Magazine is here to help with their top seven destinations for summer family vacations.
Smuggler's Notch/Stowe, Vermont
Canoeing, kayaking, swimming, arts and crafts, alpine slides, and kids' camps are just a few of the activities that families can enjoy in Vermont in the summer. Specific recommendations in Vermont include Smugglers' Notch, Stoweflake, and Stowe Mountain Lodge.
Quebec City, Quebec
U.S. families can expose their children to European culture without leaving the continent. Quebec City is a great place to visit in the summer, with fun sidewalk cafes, great hotels, outstanding culture, and beautiful sights. Fly into the convenient airport (stay in the Old City, and walk everywhere), or drive the short distance over the border.
San Diego
San Diego has the same beautiful weather year round, so summer is as good a time as any to visit. Attractions like Legoland, SeaWorld, and the San Diego Zoo are perfect for families with younger children.
Seattle, WA
While Seattle is known for their rainy, damp winters, the summer is usually beautiful. If you are vacationing there for a week or more, consider a trip up north to Vancouver and Victoria, British Columbia.
Virginia Beach, Virginia
Not only is Virginia Beach a beach, it's also home to one of the best aquariums in America. Spend a day out on the Eastern Shore, and then drive out to Williamsburg for Colonial Williamsburg and Busch Gardens.
Dude Ranches (Various locations)
Dude ranches are a fun and unique vacation option which offer loads of activities for families, including horseback riding, fishing, whitewater rafting, and more, and many offer meals as part of a lodging package.
Boston, MA
With beautiful summer weather and many popular historical attractions, Boston, MA is a fabulous summer vacation option.
For families with spring break destinations still up in the air, these top picks are destinations loaded with family fun activities and are all geographically beautiful, and highly recommended by Family Travel Magazine. For more inspiration on where to go on vacation with kids, visit Family Travel Magazine. Editor Jodi Grundig is available to talk about these picks, or any other family travel topics.
About Family Travel Magazine: Passionate about promoting family vacations that help a family bond, Family Travel Magazine ( http://www.familytravelmagazine.com) helps families decide where to go on vacation with kids. They also review hotels, destinations and attractions and reveal special deals and promotions at hotels across the U.S, the Caribbean, and Europe. Because mom and dad sometimes need to get away alone, the magazine also features destinations for parents only. Jodi Grundig, mom of two with an MBA and ten years experience in corporate finance, is a sought-after brand ambassador, travel writer, mom blogger (since 2007) and brand consultant. An avid traveler and travel blogger, Jodi has written about some of the best family hotspots, including Hawaii, Arizona, Virginia, Florida, and the Cayman Islands. Jodi has served three years on the popular Walt Disney World Moms Panel.