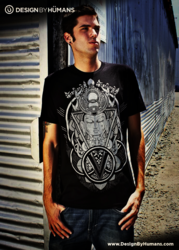 8 Bits, Zombies, Vintage, and Retro hit the top of Summer Fashions.
Irvine, CA (PRWEB) July 26, 2012
T Shirt and fashion companies continually establish and find trends all year long. This year, the t shirt industry stormed with Zombies, 8-bit, Retro, and neons to top the list of popular summer trends. Design By Humans provides a means of researching, creating and enhancing new trends in each season. The shirt of the day, facebook updates and the DBH blog are key resources to discovering new trends along with staying on top of new ones.
So what is a style, and what is a trend? A style is the base fashion trend, like athletic, casual, hippy, hipster, professional, etc. A trend is a subject within the style, for example zombies, lotus flowers, or popular color choices. There are thousands of different styles, themes, and subjects to represent in the fashion industry. Design By Humans specializes in establishing and supporting new trends for many different types of Men's and Women's fashion styles.
The t shirt says a lot about girls and guys styles. It is the first thing that people see when they look at a style. A trendy, popular, or eye-catching shirt is a conversation starter. When trying to establish a fashion trend, look into different styles to create a personal style. The summer is a great time to start looking into the wardrobe and do a checklist of style ques.
The Zombie trend is here to stay with hundreds of different t shirt designs. While skulls, and skeletons have always been a popular subject matter, this year dedicated to the Zombies. Many people following the Zombie Apocalypse, Walking Dead, or bath salts were on this trend with fashion forward designs.
One the lighter side of t-shirt design, the old school gamers rode an 8 bit wave. Old Video game designs, pixelated art, and vintage sayings all made the lists of most t-shirt companies. The Ninja Turtles, Batman, and all the super heroes spiked an unusual trend for the vintage character era. The Post Modern world of the 80's cycles back again to highlight a retro and vintage style.
Along with the 8 bits, hipster style made a large charge with young to older style groups. The 80s sunglasses, skinny jeans, and old school looking t shirts help make a main stream course of style. The retro themes seemed to trend hard as classic video games, movies, and brands hit classical trend sting.
Those are the top three trends of graphic tees for the summer months. There are the new waves of indie and hipster styles. The extreme sports and athletic enthusiast prefer breathable nylon and cotton clothing. Gothic styles are for the dark and mysterious. Finally classy trends for causal, comfortable and professional. Here is a review of each of the growing summer style trends.
Indie Clothing styles are geared around the younger generations of 16-25 year-olds. Based off indie culture, music, and the alternative rock styles. It is an enhanced version of vintage with a new age twist. The wardrobe includes vintage style graphic tee shirt, a leather accessory or two, something black, some skinny jeans and casual shoes to round out the attire.
Retro shirts are in the realms of art deco, 70's attire, and the essences of the blues brothers. The styles start with a pattern graphic shirt with muted colors or a slight vintage texture. Retro clothing features a sport coat for the winter, the retro sunglasses with the squared off frames, possibly a fedora, and clean shoes. Retro and Vintage styles can go hand in hand. Retro has a clean up class look, while vintage can just be a celebration of textured clothing.
Boarder is someone who snowboards, skate boards, to the wake board dude. The talent and passion for the extreme sports needs a chill, yet exciting style. The flashy t shirt, to the cargo shorts, sunglasses, probably a few tats and some flip flops. Those are the comfortable and cool styles of a boarder. Get some air, flash some rock on head signs in the extreme athlete fashions.
Sophisticated styles have comfort and class, a intelligent look, like Fox's Tv show star, Dr. House. He is known for catchy graphic t-shirts, a sport coat, jeans and dress shoes. The shirt normally has something witty to say on it, a nicely fit coat to keep the arms warm, and designer jeans complete the casual yet classy style.
Gothic clothing style stems from black, minor color accents, and some metal texture. Gothic styles are dark and often fit well with big boots and to dark eye shadow. Many themes include skulls, vampires and monster t shirts. Emo is also apart of this genre, but requires less black and they don't form around the dead skull theme as much.
This summer had some bizarre twists on themes and trendy styles that gained popularity. Design By Humans and the community were right on board with the newest trends and providing t shirts to match. Here are the top summer trends from the t shirt fashion industry.
Establishing a fashion trend is a fun and adventurous way to enhance personal styles. Starting at a young age people start to establish a favorite style, like shoes and a shirt. There are a variety of style options depending on the occasion.
There are different fashion styles for each season. The base styles always stay the same, but the subject matter, accessories and colors seem to change on trend.