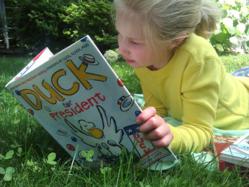 Classrooms everywhere will be discussing the election – now is a great time to introduce new and timely concepts about the voting process, an election, and what it takes to become president.
Baltimore, MD (PRWEB) June 19, 2012
Vote for learning this summer and keep education alive to give kids an advantage when school starts! More than a leg up, summer learning activities prevent children from sliding backward academically. Research shows that when students don't engage in educational activities over the summer, "summer learning loss" can occur --- meaning more time will be spent reviewing previously learned knowledge and concepts once school begins.
"With a little planning, parents can include engaging educational activities with traditional summer fun. Opportunities to write, research, read, and solve problems (math and other) reinforce and build valuable academic skills. And building is key – we want students ready for new knowledge when the school year starts," said Dr. Patricia Hoge, senior vice president for curriculum and instruction for Connections Academy, a leading virtual school provider serving K-12 students across the country.
Educators at Connections Academy suggest that parents looking to support summer learning in the home develop a learning theme – like the upcoming presidential election – to help with planning and lend structure to activities. Hoge continued, "Classrooms everywhere will be discussing the election – now is a great time to introduce new and timely concepts about the voting process, an election, and what it takes to become president." To get you started, here are Connections Academy's Top Ten Election Education Activities to keep children connected to the "three Rs" over the summer while setting them up to be the "smartest kid in class" come November.
1. Vote for… dinner! – Introduce younger students to the voting process by conducting your very own in-house election. "Nominate" two dinner choices and explain that you will hold an election to determine the winner. Crafty kids can make campaign posters, a ballot box, and paper ballots. Math skills get a boost by counting and sorting ballots. Be sure to take time to explain and write new vocabulary words like nominate, election, ballot and more.
2. Climb the branches of government – A great way to explore the Legislative, Executive, and Judicial branches of government is visually with the help of graphs that highlight roles and responsibilities. Work with students to research the branches and then make your own graph to showcase new knowledge. Use reference materials or other online resources to gather facts.
3. Explore the free Election 2012 Activity Pack – Pearson is offering a comprehensive and interactive online resource that is chock-full of games and other information about the election. You'll find a student-friendly blog, historical facts, profiles of the candidates, and much more. Do you think you know how a president gets elected? Visit this informative site and find out now.
4. Don't argue, debate! – What decision is your family pondering? To get/not get a hamster? To paint a teen bedroom neon green or white? To go to the beach or camping? Why not open the decision up to a debate? A light-hearted "formal" debate offers students the opportunity to analyze their opinions, organize thoughts, and speak in front of a group. EducationWorld.com offers some great tips and ideas to get you started.
5. Start (Electoral) College early – Older students will most certainly review the Electoral College, but a head start on this more complex system will give kids an advantage. How many votes does your state get? How many votes are needed to win? Visit the National Archives and Records Administration's page on the U.S. Electoral College to learn more. Students can even try predicting who will win the next presidential election with the Electoral College Calculator.
6. Walk the footsteps of our nation's leaders – Local historical sites, government buildings, and, if nearby, homes of past Presidents make for an exciting day trip for students of all ages. Be sure to brush up on a few facts about the location before you go and take guided tours where offered. Historical documents and artifacts are often on view and provide a glimpse into the past that is sure to spark children's imaginations. Visit the National Park Service's National Historic Landmarks website to scout out your adventure.
7. Learn about local officials – Support report-writing skills by researching local officials. Tech-savvy students may use the Internet and the local library is a wonderful resource. Learn the names of local officials, what they do, and maybe even request a meeting.
8. Take a creative stand – What issues are near and dear to your children's hearts? The environment, healthcare, energy? Or maybe things closer to home like bedtime, chores or eating vegetables. Ask questions like, "why is this issue important to you?" and encourage kids to make campaign posters for their causes. Explain the importance of facts and figures and how relevant statistics help convey a compelling, smart argument.
9. Get presidential with poetry – Inspire children to write about their hopes and dreams with poetry. Have children start with, "If I were President, I would…" and encourage them to fill in the rest with a paragraph or more (depending on the child's age) about what they would strive for as President. Children can even share their poems with the President. Visit the White House website to learn how to mail letters to the President.
10. And, as always, read with your children – Research from the United States Dept. of Education shows that reading to children is "the single most important activity for building the knowledge required for eventual success in reading." Libraries offer many children's books about government, the election process, presidents, and more for parents and children to enjoy together. Check out titles like Duck for President and others on the U.S. Senate's childrens bookshelf – a great resource for books about voting, how government works, the U. S. Constitution, and more.
For more Summer Learning Tips, visit Connections Academy's online newsroom and blog. Enrollment for Connections Academy virtual schools is going on now. To learn more visit ConnectionsAcademy.com.
About Connections Academy
Connections Academy is a leading, fully accredited provider of high-quality, highly accountable virtual schooling for students in grades K through 12. Through tuition-free public schools, and full-time and part-time private school programs, Connections Academy delivers superior, personalized education for students, with the freedom and flexibility to experience our online learning community from anywhere. The combination of certified teachers, a proven curriculum, technology tools, and community experiences creates a supportive and successful online learning opportunity for families and children who want an individualized approach to education. In the 2012–13 school year, Connections Academy will serve students in 22 states via 24 virtual public schools. It serves students worldwide through the online private school, National Connections Academy. Connections Academy offers grades K through 12, though some public school programs do not offer all grades. For more information, call 800–382–6010 or visit ConnectionsAcademy.com. Connections Academy and its parent company, Connections Education, are part of the global learning company Pearson (NYSE:PSO) Pearson.com.